Clearasil Ultra Rapid Action Seal‐to‐Clear Gel
Can't Stop Touching it? Seal It to Clear It!
Like us on Facebook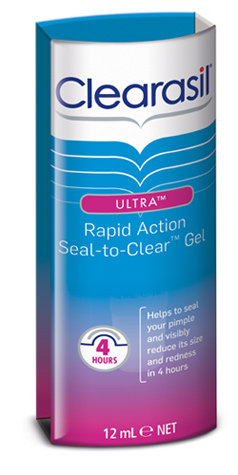 Pimples. Why do they always seem to appear before a big job interview or worse — the day of your hot date? But there's good news, we've found a solution! Clearasil's new Ultra Rapid Action Seal‐to‐Clear Gel ($14.99) not only seals your pimples to help protect them from bacteria on your hands, it also contains pimple-fighting ingredients to help visibly reduce pimple size in just four hours.
Using InvisaSkin™ technology, Ultra Rapid Action Seal‐to‐Clear Gel is the only product to provide an invisible barrier — helping to stop the spread of bacteria via touch — and house a unique reservoir of salicylic acid which helps to unclog pores and fight blemish-causing bacteria. In just four hours, this blemish buster will help solve all of your pimple problems!