Ella Bache Advertisement With Amanda Ware, Annabella Barber
Exclusive: Ella Baché Uses 5 Aussie Models to Front New Campaign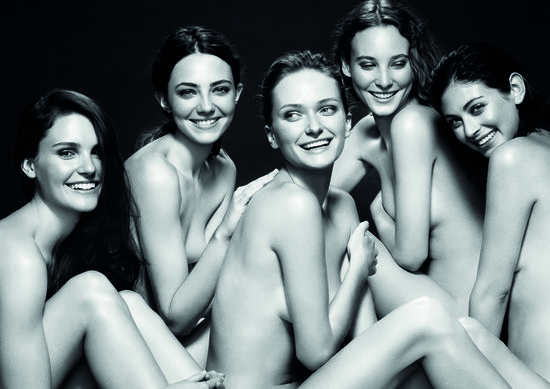 French skincare brand Ella Baché has teamed up with celebrity and fashion photographer Jez Smith on a beautiful black and white campaign to promote their new message: Skin Solutions as Individual as You Are. The advertisement features Australia's Next Top Model season six winner, Amanda Ware, and runner-up, Kelsey Martinovich, alongside Annabella Barber, Amelia Zadro and Pixie Levinson. As the first beauty campaign for all five girls, it will roll out from September 9. We've got the exclusive on a chat with Kelsey keep reading.

You're revealing quite a lot in this new ad, how do you feel about that?
"I am completely comfortable with my body, I came into this world naked like everybody else. So showing a bit of skin is no issue."

Did you tell your parents you were doing it and what did they say?
Yes, I speak to my family about most of the work I do, they are always excited to hear of what I am doing and where my job takes me. They know I would never do anything I feel uncomfortable with.

What was it like doing this shoot with five of you girls almost all naked crammed in together?
"It was a fantastic shoot! Working with an incredible team of girls and the amazing team behind the lens as well. We are not forced into doing anything we feel uncomfortable with so there was nothing awkward or crammed about it. We had a great time shooting together!"

You team up with fellow ANTM winner Amanda in this ad, what was it like working together again?
"Always a pleasure shooting with the beautiful Mandy! She kept me laughing all day long. We hadn't seen each other in a while so it was amazing to catch up with her and Jez Smith!"

You've gone on from the reality show to have an amazing career, how are you enjoying modelling?
"It's great! I am now based in London and meeting some very inspiring people. I am really happy with the paths I have taken and have enjoyed meeting some really incredible and talented people along the way."