How to Fake an Undercut
How-To: Fake an Undercut Like Kelly O in 4 Easy Steps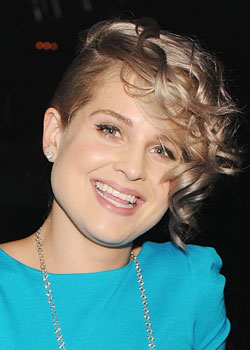 Ombré highlights may be all the rage in the hair colouring world, but as far as haircuts are concerned, if you're too cool for school the beehive, the undercut is the style of the moment. Worn by stars like Alice Dellal, Rihanna and Mel B, the look is not for the faint hearted. So if you like the cut, but don't want to shear away half your hair, you can easily fake it with these tips . . .
STEP 1: First blow-dry the hair using a light-hold gel to tame frizz. This will also give the hair shine and light staying power.
STEP 2: Next, create a deep side part.
STEP 3: On the non-heavy side of the part, apply more gel (you can even use water) to slick the hair to the side. Use bobby pins placed an inch or two behind the ear to secure. Then, spritz with hairspray to hold.
STEP 4: Brush the hair on the heavy side of the part toward the face or over the eye for emphasis. If you need more lift, simply tease at the roots or lightly spray the roots with hairspray and blast with a dryer. Or go for curls like Kelly Osbourne.