2012 Teen Choice Awards Celebrity Pictures and Highlights
Robert, Kristen and Selena's Birthday: Teen Choice Awards Highlights!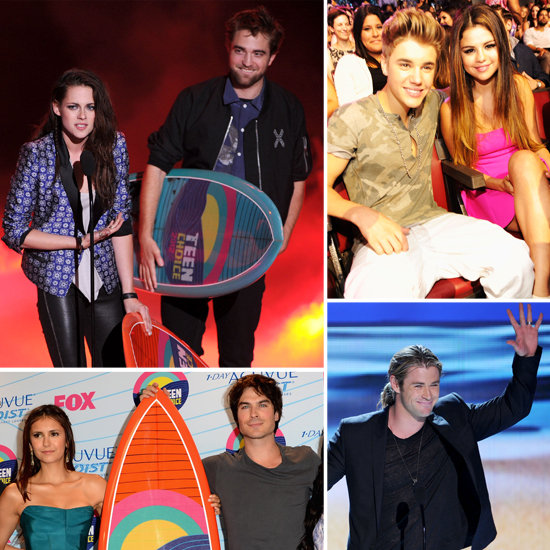 1
Robert, Kristen and Selena's Birthday: Teen Choice Awards Highlights!
Demi Lovato and Kevin McHale opened the Teen Choice Awards as the event's hosts today. She was treated to greetings from her fellow The X Factor judges Britney Speats and Simon Cowell, before the first presenters, Selena Gomez and Zooey Deschanel, handed off the Choice Comedian to Ellen DeGeneres. Choice Sci-fi TV series went to The Vampire Diaries, and the cast of Choice TV Drama Pretty Little Liars handed off Movie actor to The Lucky One's Zac Efron. Ian Somerhalder and an absentee Miley Cyrus took home Choice Male and Female Hottie nods, respectively. Ian sent thanks to Miley's parents, Tish and Billy Ray Cyrus, on her behalf. Other absentee honours went to The Hunger Games' Choice Male Scene Stealer Liam Hemsworth and Choice Actress in a Sci-Fi Movie Jennifer Lawrence. Emma Stone will receive two prizes for Crazy Stupid Love and The Help, Rihanna got love for Battleship, and One Direction had their boards air-mailed to London.
Birthday girl Selena Gomez, who's newly 20, won Choice Music Group for Selena Gomez & the Scene. Winning a surfboard was for Selena "the best birthday present ever," and things only got better when the crowd sang "Happy Birthday" for her. Jonah Hill made a cameo to accept a surfboard for 21 Jump Street, and Taylor Swift took the stage to accept Choice Female Artist. The Twilight gang of Robert Pattinson, Kristen Stewart and Taylor Lautner accepted the ultimate choice prize for Breaking Dawn Part 1, and Rob even passed his surfboard into the crowd! To wrap things up, Justin Bieber performed a medley of his songs from Believe. The last honour went to Choice Summer Male Movie Star Chris Hemsworth, for both Snow White and the Huntsman and The Avengers. It was a big day for young Hollywood — be sure to catch up on all the Teen Choice Awards style!
Latest Celebrity