Carrie Underwood Interview on Music Inspiration, Performing With Keith Urban and Australian Tour
Carrie Underwood on Music Inspiration, Talent Shows and Why She Loves Keith Urban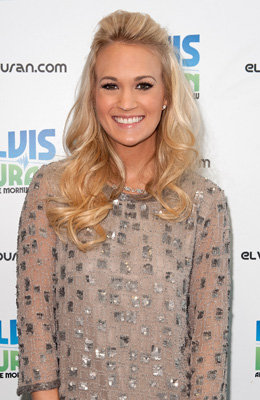 Winning a show like American Idol is a great start to one's music career, but it takes hard work, perseverance and perhaps finding a niche that really leads to success. One of the best examples of this is Carrie Underwood, who won American Idol in 2005 and is now one of country music's biggest artists. In a few years she's managed to sell more than 14 million albums worldwide, has notched up 14 no. 1 singles and has won five Grammys — not to mention all her country music honours as well. She released her fourth studio album, Blown Away, earlier this month, and is touring Australia in June, so we caught up with the singer to talk about how she's grown and what it's like to sing with Keith Urban.
How has your music changed over four studio albums?
I feel like I've grown a lot as an artist and as a person in the seven years that have passed by.
What were you going through in your life that inspired the songs on Blown Away?
I actually use the writing and performing platform to get away from my normal life. I love to play a character or make up characters and stories to sing about them. Inspiration for those kinds of songs can come from anywhere.
What's your song writing process like?
I just want to have fun with it! I have a lot of songwriters that I like to write with that have become my friends over the years and we always have a great day writing together whether we get a smash song or not. That's the key. I don't want writing to feel like work. I want it to be fun and creative!
More from Carrie when you keep reading.
It was just announced that you're touring Australia in June. What can we expect from your shows?
We have so much fun on stage and really hope that the people who attend can do the same! We work really hard to put together an entertaining evening. I just want people to show up ready for a good time!
What would you like to see or do in Australia if you've got the time?
I would love to go to the zoo in Sydney. I've heard such wonderful things about it!
You've been one of the biggest success stories to come out of the Idol franchise — what do you think about talent shows today? Do you watch them? Would you consider a judging role on a show?
I'm all about giving unknowns the chance to make it big! I'm still an "Idol" girl all the way and will always continue to love and support that show, but any avenues that give people like me a chance to realise their dream are wonderful! I don't know if I could ever be a judge. I might be better as a mentor. I would rather encourage than criticise.
What's it like to work and perform with Keith Urban?
Keith is truly a great guy! He's obviously insanely talented, but he always wants those who tour with him to feel right at home! His entire band and crew are so great and fun to hang around with. He's such a cornerstone of country music and you all should be very proud to claim him as your own!
What do you like to do in your downtime?
What downtime? Ha ha. Just kidding. I like to hang out with my husband and my doggies! We spend a lot of time outdoors and on the lake.
Where do you see yourself in 10 years' time?
I don't know where I see myself next week, let alone in 10 years! I just take life as it comes and try not to plan too much too far in advance!
Read Carrie's beauty tips on BellaSugar. Blown Away is available to buy on iTunes.