Crazy Stupid Love Trailer Starring Ryan Gosling, Steve Carell, Emma Stone and Julianne Moore
Ryan Gives Steve Lady-Killer Lessons in Crazy, Stupid, Love
Like us on Facebook
Were you hoping to see Ryan Gosling shirtless today? Of course you were. He takes it off in the trailer for Crazy, Stupid, Love, in which he plays Jacob, a love guru of sorts to Steve Carell's character, Cal. In the midst of a divorce from his wife (Julianne Moore), Cal is heartbroken, newly entering the world of dating, and utterly lost. Enter Jacob, a ladies' man with no problem wrangling women and an urge to help Cal find his way. Cue the male movie makeover!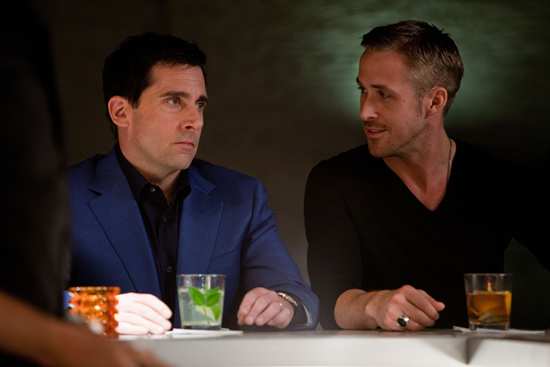 The preview reminds me a bit of The 40-Year-Old Virgin, particularly as you watch a bewildered Carell receive seduction advice. Crazy, Stupid, Love seems like it's also going for the same mix of humour and heart, as both Cal and Jacob become vulnerable for love. In Cal's case, he doesn't seem to be over his ex, and skirt-chasing Jacob falls for a woman who challenges him (an adorable Emma Stone). What I like most about the trailer, though, is that Ryan seems to be the prime source of comedy, something I've been excited about since he was cast in this movie. Watch him getting the laughs (and showing his abs) when you read more.
Keep reading to watch the trailer!