Michelle Williams, Mila Kunis and Rachel Weisz in US InStyle
The Ladies of Oz Team Up For a Glamorous March Cover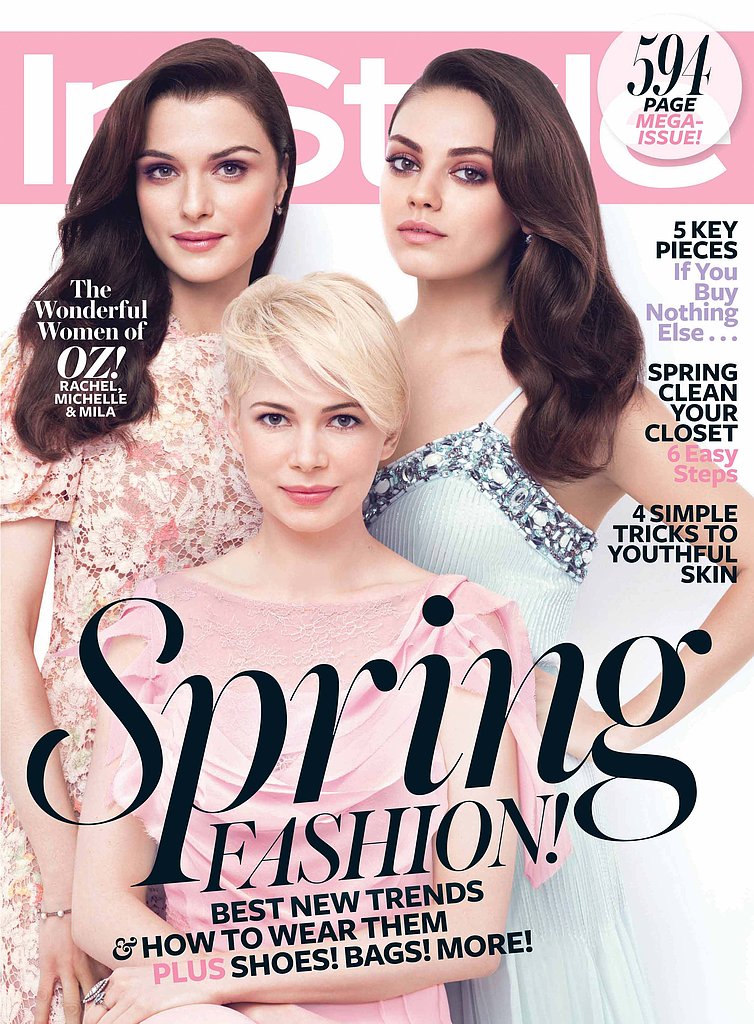 1
The Ladies of Oz Team Up For a Glamorous March Cover
Oz: The Great and Powerful hits cinemas next month and the leading ladies of the classic children's story reboot are promoting the project with US InStyle's March issue. Rachel Weisz, Mila Kunis and Michelle Williams posed together for a glamorous shot and spilled about filming and family. Michelle touched on life with boyfriend Jason Segel while Rachel shared her favourite part of working with Michelle. Mila, who has been sticking close to Ashton Kutcher, talked about her tricky costumes. Here's more from Michelle, Rachel and Mila in InStyle:
Michelle on Jason: "He is nice . . . I didn't actually realise who he was before I started dating him. I mean, I saw the Muppets movie, and I thought, 'Oh, that's cute,' but the truth is I didn't realise he made a lot of very popular, funny movies or was on a TV show. But maybe more important, I didn't realise he was so tall. I thought, 'Hey, man, you're cramping my style!' I tried wearing wedge heels for a while to compensate, but it wasn't me and I just gave up."
Rachel on the best part of filming: "Michelle's daughter and my son are about the same age, so they went to camp together, and we took them bowling. It was really fun for me and Michelle too, because you don't get that many mummy playdates in our business."
Mila on her costumes: "I spent a lot of the shoot in a leather corset, wired up in a harness, and flying around in a costume that weighed 10 pounds. I hear some women enjoy wearing a corset, but tell them to try 17 hours of that and then get back to me."
Latest Celebrity