Naked and Pregnant Miranda Kerr poses in W Magazine's Family Issue
Pregnant, Naked Miranda Kerr Joins Katherine Heigl in W
Like us on Facebook
Katherine Heigl and her daughter Naleigh Kelley gracefully pose in a loving embrace on the December cover of W. The issue celebrates many different types of celebrity family units from those with many kids to happy couples preparing for their first. Following last month's nude Kim Kardashian shoot,  Miranda Kerr posed naked inside the magazine to honour her first child with husband Orlando Bloom. She talks about future career plans and keeping the sex of her unborn child a surprise. Usher, Madonna, and Katherine also open up about parenthood and what the bonds with their sons and daughters mean to them—check out the slideshow of gorgeous images. Read the full interview on W's site. Here are the highlights: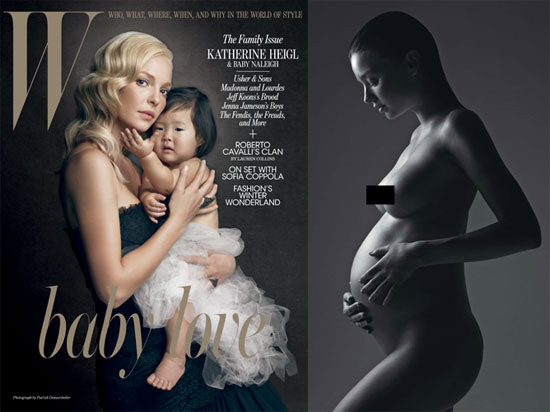 Miranda on starting a family: "For me, family is life . . . The decision to start one wasn't complex at all . . . My career has been wonderful, but it's not my life. I don't feel pressure to get back to work. My goal involves a hammock, a vegetable patch, and a solar-powered house. And I hope to eventually get there."
Katherine on adopting Naleigh: "Three or four days before I traveled to Atlanta to shoot Life as We Know It, I became Naleigh's mother . . . I was about to play a woman who inherits a baby, and I was experiencing the same things as my character. I didn't really want to let Naleigh out of my sight, but it's not terribly realistic to have a baby in a trailer 12 to 14 hours a day."
Katherine on adapting to having a child: "I knew there was no way in hell I was going to get rid of any of my dogs to make room for a baby. Naleigh loves them. Sometimes it reminds me of The Jungle Book. I'm like, Oh, my God—she's being raised by animals."

Keep reading . . .