Photos Of The Queen's Diamond Jubilee Celebrations So Far
See Queen Elizabeth's Diamond Jubilee Celebrations So Far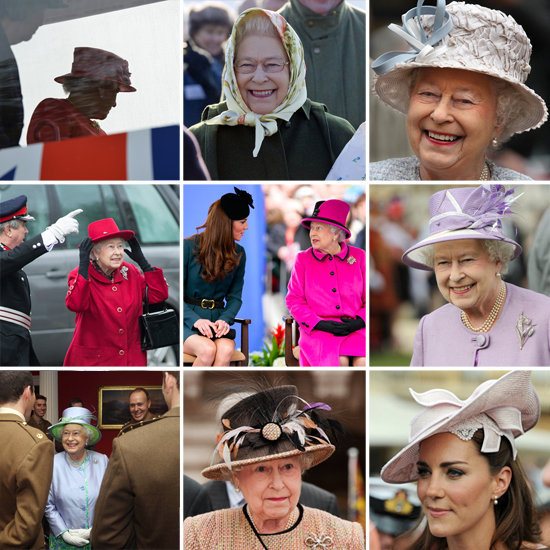 1
See Queen Elizabeth's Diamond Jubilee Celebrations So Far
On February 6, Queen Elizabeth II marked 60 years on the throne. To commemorate the Diamond Jubilee, the royal family has travelled around the world on her behalf; Prince Harry enjoyed a successful royal tour in Central America and the Caribbean. The Queen herself has been staying closer to home for the festivities. Wednesday, Queen Elizabeth attended a dinner for the Argyll and Sutherland Highlanders, and yesterday she presented our former Prime Minister, John Howard, with the Order of Merit award at Buckingham Palace. And earlier in the week, Queen Elizabeth was joined by Kate Middleton, as well as Prince Charles and his wife, Camilla, for a royal tea party at Buckingham Palace. Keep reading.
These events were held ahead of this weekend's official Diamond Jubilee celebrations, which will take place over four days. Other events have included inspecting Gloriana, the new royal barge built for the Diamond Jubilee. The 86-year-old monarch held onto her hat as she and Prince Philip, 90, braved the wind and rain to visit the pier on the Thames to see the barge that will carry Queen Elizabeth and her husband down the river during the upcoming celebrations. She also headed to Manchester, England, where she even found time to crash a wedding! The couple had invited her royal highness, knowing she would be in town. A lady in waiting sent a letter declining their invite, but plans were in fact made for the Queen to surprise them.
For the first official Diamond Jubilee event, the queen was joined by her husband, Prince Philip, Duke of Edinburgh, and Kate Middleton. In Leicester, Kate and the Queen watched a fashion presentation, meeting up with Prince Philip later for a service at Leicester Cathedral and lunch. Queen Elizabeth really seems to be enjoying herself. You might not know it, but the queen has a laid-back side to her. She reportedly isn't afraid to put on lipstick in public, text message her grandkids, and has a big heart for her racehorses and Corgis. We've rounded up pictures from all the festivities! Check them out now.
Latest Celebrity