David Jones Autumn Winter 2014 Fashion Launch Runway
David Jones Autumn Winter 2014 Runway Recap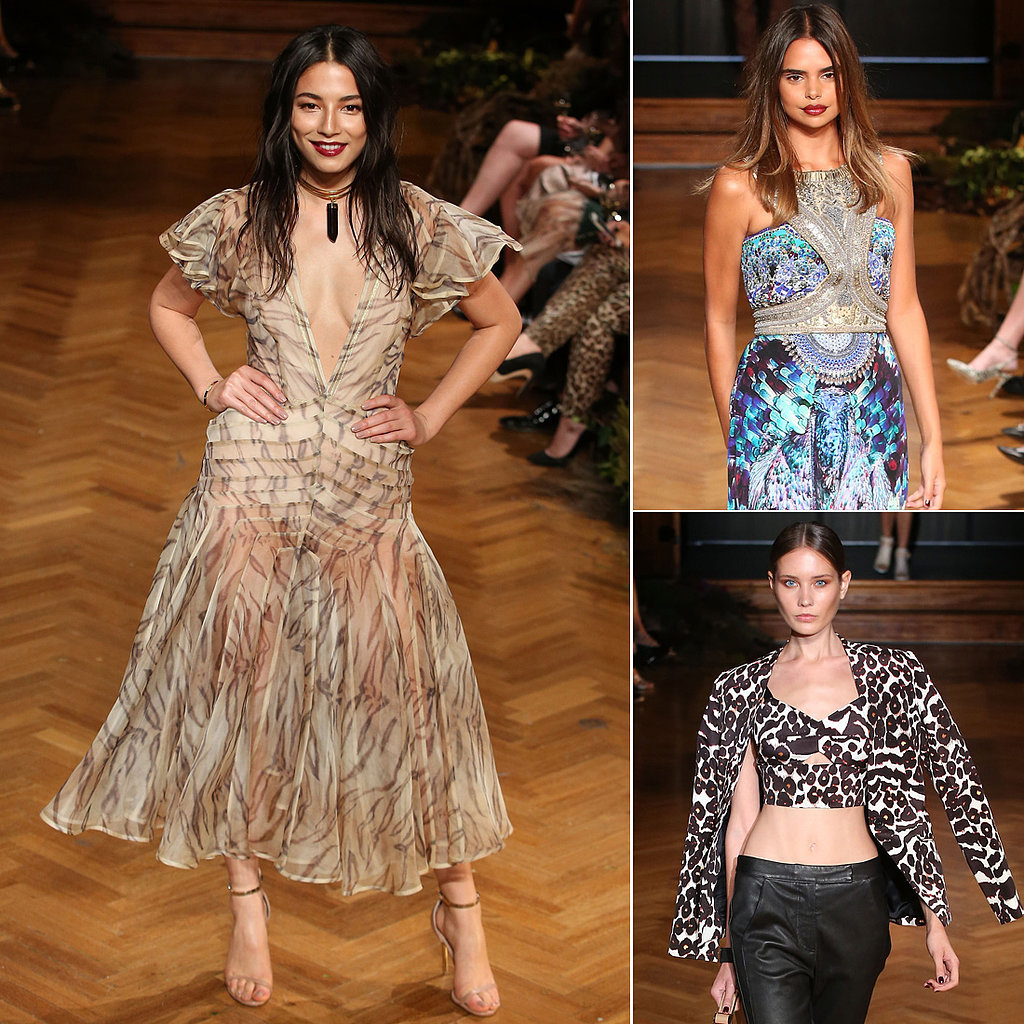 1
David Jones Autumn Winter 2014 Runway Recap
Look, we're not smitten with Winter either — if it were up to us, bikinis, sandals and strappy slip dresses would be a year-round uniform. But if there's one thing that makes us a teeny bit more accepting of Autumn, it's the David Jones Autumn Winter runway show — there's just something so sleek about cleverly-layered cool-weather style. Plus, there's a giddy feeling we get seeing new collections any old time, but when it's an edit of Zimmermann, Lover, Bianca Spender, Camilla and Marc, Scanlan Theodore, Christopher Esber, and worn by flawless faces like Jessica Gomes, Cheyenne Tozzi, and Montana Cox, you know we're going to swoon (and shop).
With such an enviable portfolio of brands to pick from, the seasonal David Jones launch is a good way to gauge the temperature of the season ahead. So what will be in-store and on-trend next season? "Reworked classics such as the smoking jacket, wide-leg trouser and the essential LBD complement cutting edge dresses, precision tailoring and the new bold prints," Donna Player, David Jones group executive of merchandise said. 
Winter and bare-skin might not typically go hand-in-hand, but designers have gotten creative with new ways to flash some flesh. Perhaps a hangover from Summer's midriff moment, the David Jones runway was packed with sneaky, sexy, clever ways of showing skin. While necklines crept higher (yes, there were totally cool ways to wear the turtle neck), and sleeves grew longer, Carla Zampatti inserted sheer panels, Camilla and Marc designs featured back cut-outs, Collette Dinnigan did lace with sheer sleeves, and Scanlan Theodore added unexpected slices through dresses.
While black and neutrals have long held a special place in the hearts of fashion fans, Autumn is also about jewel tones. While the silhouettes remain sleek, sculpted, and minimalist, brands like Scanlan Theodore, Dion Lee and Hugo Boss have jolted them with rich shades of tourmaline, ruby, sapphire blue, and pink. 
And for the minimalists? Get yourself reacquainted with grey, whether it's smoky charcoal, granite, or soft dove shades. Camilla and Marc, Carl Kapp, Victoria Beckham, SABA, and Witchery are just some of the names doing it for Winter. 
The runway itself at the launch was transformed into an enchanted forest, with moody lighting and smoke setting the scene. "I love the whole set, it's very Tim Burton-esque. It's so dramatic, dark and moody. It's very different, cool and intimate," model Jessica Gomes told POPSUGAR Australia backstage.
Head into the gallery to see all the highlights from the David Jones Autumn Winter runway showcase. 
Latest Fashion