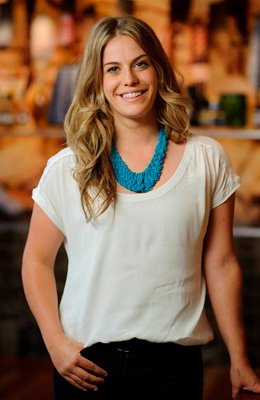 It seemed like the challenge she had in the bag, but Kylie Millar's MasterChef dream came to an end last night when she was eliminated from the show after a gruelling lunch service for 60 people at Guillaume at Bennelong. Kylie was tasked with recreating the elements of Guillaume Brahimi's Nougat Glace dessert, but a small slip-up with her parfait mixture turned out to be a big mistake (it had split) that was only realised too late, and as a result her time was up. We spoke to Kylie this morning to talk about the stressful challenge, any romance rumours in the house, and being one of the boys.
How has life on the outside been so far?
Really cool, actually! Since being out and about I tried to jump into a kitchen straight away, so I went and did some work experience with Guillaume at Bennelong, and then I went down to Melbourne with Darren Purchese in his little place, which has been great. I've absolutely loved it.
It's so good that you got that offer to work with Guillaume right away.
It was! I was very lucky. And the calibre of restaurant that it is, and to be able to work in the pastry section, I was very lucky.
Unfortunately many people already knew you didn't make the top five because of a magazine blunder last week. Did that spoil it for your friends and family who didn't know?
[Laughs] A lot of them actually didn't know anyway. They didn't read the magazine until a couple of people told them, but it was all good. They knew MasterChef was coming to an end anyway, so it didn't matter whether I'd made it to the final two or final.
More from Kylie when you keep reading.