In the opening scene of What's Your Number, Ally (Anna Faris) slips out of bed to adequately primp for that "Don't I naturally look amazing in the morning?" glow and return before her boyfriend du jour even notices she's gone. If that sounds familiar to you, it's because almost the exact same scene was featured in Bridesmaids. Though we can write that off to unfortunate coincidence, the rest of What's Your Number? continues to borrow so much from other films that the romantic comedy ultimately drowns in overused clichés.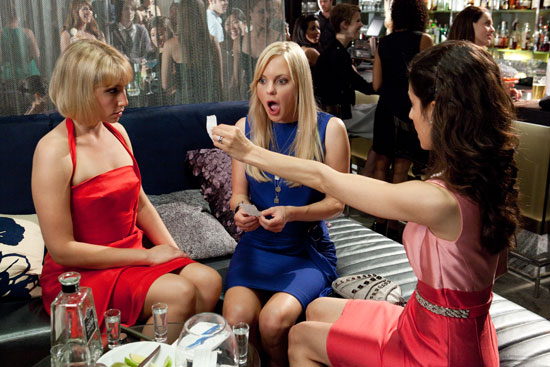 The attractive neighbours-who-will-obviously-fall-in-love here are Ally, an unlucky but optimistic woman who has a dated a string of losers, and Colin, an overgrown frat boy who brings new meaning to the term "love 'em and leave 'em." When the latest issue of Marie Claire informs Ally that her number of lovers is above average and means she's in danger of ever finding "the one," she decides to try again with all of her exes instead of letting her number go higher than 20. After one hilarious, wine-induced failed attempt to track down the guys on the Internet, Colin offers his sleuthing skills in exchange for using Ally's apartment as his personal hideout from his one-night stands. What ensues is a predictable, by-the-book romantic comedy that is barely salvaged by Faris and Evans' chemistry and a long list of inspired supporting players.
To see what else I thought about What's Your Number?, just keep reading.