3 Party Makeup Looks Using 3 Beauty Products
3 Easy Makeup Looks That Require 3 Shades or Less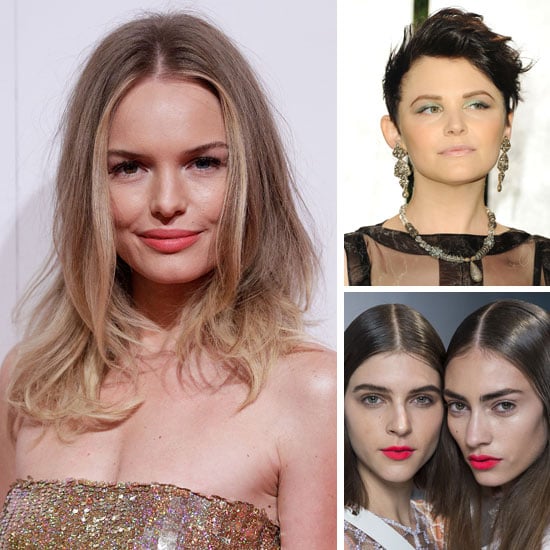 If applying cat-eye liner sounds like a scary task and false eyelash instructions are like a map written in an alien tongue, then these easy beauty looks are for you. Simplify your party makeup routine with the following three outstanding palettes from past celebrity and runway looks. With three products or less, you can convert your basics to bewitching.
Look 1: Kate Bosworth's Blooms and Blossoms
You need: Peach lip stain and full, top lashes.
Get it: Swipe a generous amount of mascara on the top lashes only. Then layer a peach lip stain, like Stila Fruit Crush Lip & Cheek Stain ($27.20) on cheeks. Finish by swiping the same colour on the lips for a fully flushed appearance.

Look 2: Ginnifer Goodwin's Enviable Green Eyes 
You need: Green eyeshadow and a nude lipstick.
Get it: This makeup look focuses on the eyes. Add a swipe of green eyeshadow, like L'Oreal Paris Infallible Eyeshadow in Permanent Kaki ($19.95) on the top lid, leaving the inner corners blank. Then use a silver shadow pencil in the inner rims forming a V shape. Finally, swipe on a warm nude lipstick.
Look 3: Missoni's Spring 2013 Raring Red
You need: Red lipstick and bold brows.
Get it: If you're a fan of a bold lip, pair your favourite red shade with some strong brows. Apply an eyebrow powder, such as Natio Brow Kit ($19.95), using gentle, feathered strokes. For a clean, manicured look, brow powder is best applied with a brow brush.