Anti-Ageing Benefits Of Sleeping On Your Back
Why Training Myself To Sleep On My Back Was The Best Anti-Ageing Move I Made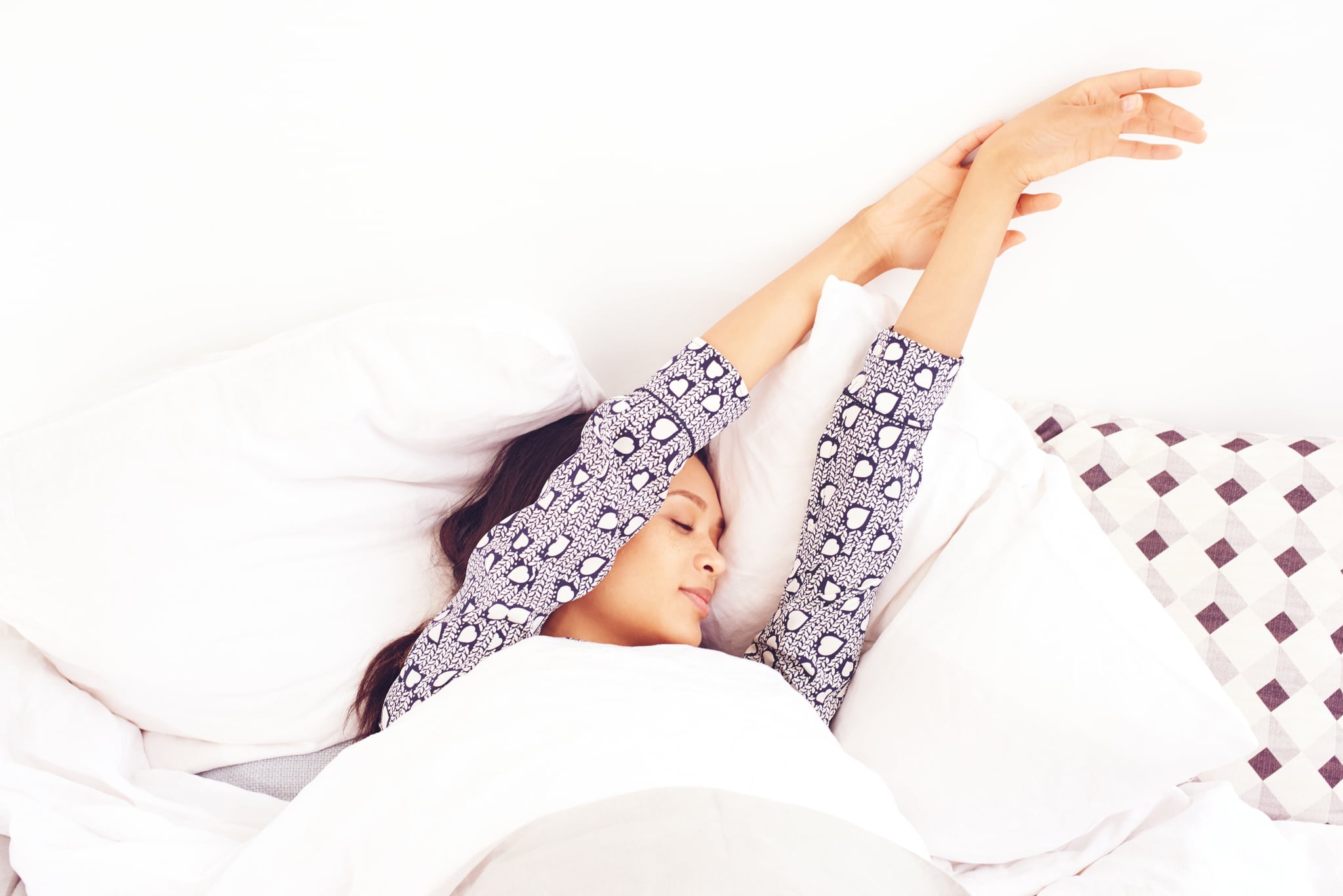 Here's a scary thought: I've spent around 10 years of my life tucked up in bed, slumbering away. That's 10 whole years of dreams and nightmares; 10 whole years of body restoring sleep. Sounds like an exorbitant amount, right? Well, yes. But when you take into account the recommended eight hours of sleep each night, it adds up terribly quickly, and equates to a third of your life.
But enough with the maths talk.
The reason we spend so much of our lives sleeping is because it allows our bodies to recuperate, and ensures we're able to get up each day and tackle it head on. Sleep is also one of the best anti-ageing solutions available to us. While we rest, our growth hormones work on repairing damaged cells, helping to slow down the signs of ageing; our cortisol levels are stablised, preventing inflammation in the body that leads to a number of skin issues, including acne and psoriasis; and our natural collagen and hyaluronic acid levels are restored, allowing us to wake up with plump, glowing skin. Yes, it's been dubbed beauty sleep for good reason.
So, shouldn't we be making the most of sleep? Shouldn't we be helping our body restore itself in the best way possible every single night? We should. And that's precisely why I trained myself to sleep on my back. It was a strategic move, and it wasn't an easy one, but the anti-ageing benefits have been exceptional.
Why Sleeping on Your Back Is Best
Most of us sleep on our sides or on our stomachs. They're comforting positions, and allow us to slip off into deep slumber with ease. Unfortunately, these positions also mean there's constant pressure on our face for around eight hours each night. The cotton pillow case becomes scrunched up beneath our delicate skin as our face lays heavily on the pillow, and our crossed arms squish together the skin on our decolletage. Over time, this repetitive pressure and movement creates permanent wrinkles on our face and in between our breasts. But when you sleep on your back, your face and decolletage aren't crumpled. They aren't crushed. They aren't squished. This allow the skin on these areas to benefit most from our beauty sleep and skincare regimen.
How I Trained Myself
I made the decision to actively train myself to sleep on my back around seven years ago. As someone who adored sleeping on their stomach, it wasn't an easy transition. In the early days, I would even lie awake cursing myself for even coming up with such a preposterous idea, because sleeping on my stomach felt wonderful. And it allowed me to fall asleep fast. So why would I choose to give that up?
The easiest part of training yourself is lying on your back when you first get into bed. The hardest part is staying in this position. In the first few weeks, I would wake in the night and find myself on my side or stomach, and force myself back onto my back. Over and over again. It obviously didn't feel natural, and my body was craving what felt normal. But I persisted. I even placed two pillows either side of my body to create a barrier, making it harder for my body to turn in the night subconsciously. This turned out to be a winning trick, because after a month or so of back sleeping, it not only started to feel comfortable, I stopped moving during the night and started to wake up still lying on my back. My face was free of crinkles, and my eyes were less puffy because fluid was no longer pooling in face from sleeping face down. The benefits were instant.
Fast forward to today, and I'm still sleeping comfortably on my back. You can buy specially designed pillows that promote back sleeping like the Juverest Sleep Anti Wrinkle Pillow, which provide extra support for your neck and shoulders, but investing in a supportive latex pillow will also allow you to sleep on your back comfortably. I use the Dunlopillo Talalay Latex Medium Profile Pillow in Classic Feel, which keeps my head at a height that makes back sleeping pleasant while providing exceptional support for my head at the same time. (A cheap, polyester-filled pillow won't cut it when you're sleeping on your back. You'll feel like you're sleeping on the floor, and wind up back on your side or stomach in minutes.)
A supportive mattress is also key to sleeping on your back, as you don't want your lower back to arch as you sleep. After recently spending far too much on a mattress that is far too firm, I've placed the Bambi Moodmaker Memory Foam Mattress Topper on top of said hard mattress, and it contours to my body perfectly. My back is supported, allowing me to continue to sleep in this anti-ageing position.
The Proof It Worked For Me
As I continue to creep closer and closer to 30, I see my skin changing in a number of ways. But what I don't see is sleep wrinkles. Each morning I rise without crinkles on my face or chest, and it's all because I trained myself to sleep on my back. Yes, I sleep on a silk pillowcase to ensure my face glides across my pillow should I sneakily
turn on my side (I love Slip Pure Silk Pillow Case in White and Go-To Skincare Face Case), and yes, I follow a strict nightly skincare regimen that includes retinol (Dermalogica Overnight Retinol Repair), a nourishing eye cream (Bellamer Eye Treatment Balm), a stable face oil like squalane (Peter Thomas Roth Oilless Oil), and an antioxidant-rich night cream (A'kin Intense Hydration Day & Night Cream), but my sleep position still plays a vital role.
In fact, during a recent Dermalogica IonActive™ Power Treatment, the highly skilled facialist commended me on how smooth my skin was. She said I do not have a single wrinkle on my face or decolletage, which is a rare occurrence for someone of my age who's spent a majority of their life living under the harsh Australia sun. And I trust her, because an expert eye sees everything - both the good and the bad. That said, I can confidently say training myself to sleep on my back was the best anti-ageing decision I've ever made. (Well, that and wearing 50+ sunscreen on my face every day. Thank you, Ultraceuticals SunActive SPF50+ Mineral Defence Face & Body Lotion!)