Beauty Reviews of Simple Kind to Skin Wipes
Reader Reviews: Simple Kind to Skin Wipes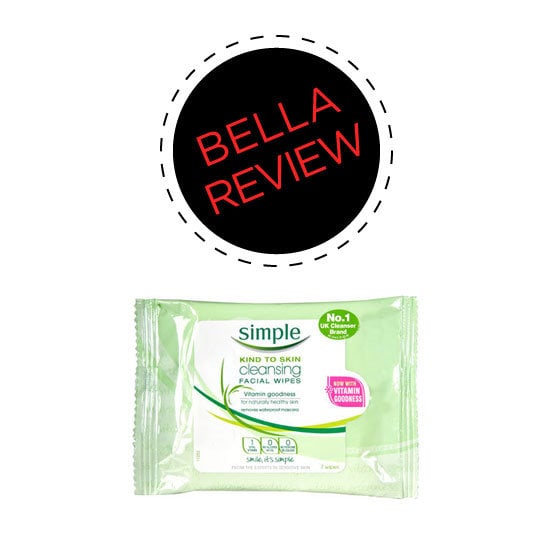 We put the call out for readers who wanted to review the Simple Kind to Skin Wipes ($6.99), and seeing as though they are a favourite among models and the Sugar editors alike (they're actually the number one facial skincare brand in the UK), we weren't short of volunteers! Our chosen beauties have been putting the colourant-free, alcohol-free and artificial perfume-free cleansing wipes through their paces, and the first round of results were really positive. Let's see what our second round of reviewers had to say!
"Beauty products that require minimum time but provide maximum results are my friend. We all know that makeup needs to be removed each and every night, but there are some occasions where scrubbing at the sink is the last thing on my to-do list! Enter, the Simple Skin Facial Wipes. One thorough swipe around each area of your face and neck takes off most makeup, while a second swipe with a fresh cloth ensures all traces of eye makeup and base is removed properly. Such a lifesaver! I make sure a pack is permanently kept in my gym bag, car and overnight bag to ensure I never have an excuse to sleep with a made-up face again. Winner." – Klarissa
"These wipes are handy to keep in your bathroom cabinet or handbag, but I wouldn't use them each and every day. You need to use more than one cloth to get a really deep clean, which is often achieved more easily with cleanser and face cloth. I liked the ease of these wipes, and the lack of alcohol and oil meant they didn't dry my skin out afterwards, but I think I'll save them for occasional use only." – Sally
For more reviews, keep reading.
"I work out like three or four times a week so I'm always on the hunt for wipes to remove my makeup. I love the Simple ones but I did find they dried out when I left the tab open a little bit. I'll have to be more careful! But I like that they don't smell or anything." – Bec
"My first thought when I pulled out the first facial wipe was that it felt a lot drier than other facial wipes that I had used in the past. The texture of the wipe was quite soft but it didn't remove all of my makeup effectively with just one wipe, after using two wipes, I still had to use a separate eye makeup remover for my waterproof mascara. The good thing about these wipes, was that they didn't leave an oily residue after using them which I have found in the past causes me to breakout. I would buy these wipes again, they would come in handy when I just don't have the time to go through my nightly skincare routine." – Debbie
"I have to say, I'm pretty impressed with these face wipes! They're a lot better than I thought they'd be — I've been a die-hard routine girl since my mum taught me 'proper' skincare when I was 16. I always exfoliate, cleanse, tone and then moisturise twice every night, and I've been a bit too afraid to change that up because I breakout when I do. But while I was testing these, I skipped the exfoliate, cleanse and tone steps in my routine and I'm stoked to say that my skin is just as clear as always — if not, better! Best of all, they're saving me about 10 minutes of precious time every day! I can't say I'll never go back to my old routine, but for the time being I'm surprisingly happy with my Simple wipes." – Phoebe
"I've never had any skin problems — I'm lucky, I know — so to be honest, looking after it isn't high on my list of priorities. Whenever my friends try to get me to try a new product or to look after my face a bit better, I always ask, 'Is it easy enough to do in 30 seconds?' Usually, it's not, so I was pretty excited to try these wipes, which my friend said actually take less than half a minute to remove all makeup, and cleanse and tone my skin all at once. They're also really cheap which is important for me considering makeup isn't a huge priority. I kind of kept waiting for a catch, but there wasn't one... I think I may have finally found the one beauty product I will be bothered to use regularly." – Jacinta
"I'm pretty lazy when it comes to looking after my skin. Before trying these wipes I would just wash my face with soap and apply moisturiser. My skin used to feel really tight and dry, but after using these wipes it feels better." – Bianca
"My friend raves about these skincare wipes and I have to say, I'm pretty impressed! I'm prone to breakouts so I was a bit worried I would get some pimples from using these but I didn't. Well not yet anyway. They left me feeling really clean, and I only needed to use one to remove all my makeup." – Madda