Before and After Results Smartbleach Teeth Whitening
This Teeth Whitening Treatment Is Perfect For Sensitive Teeth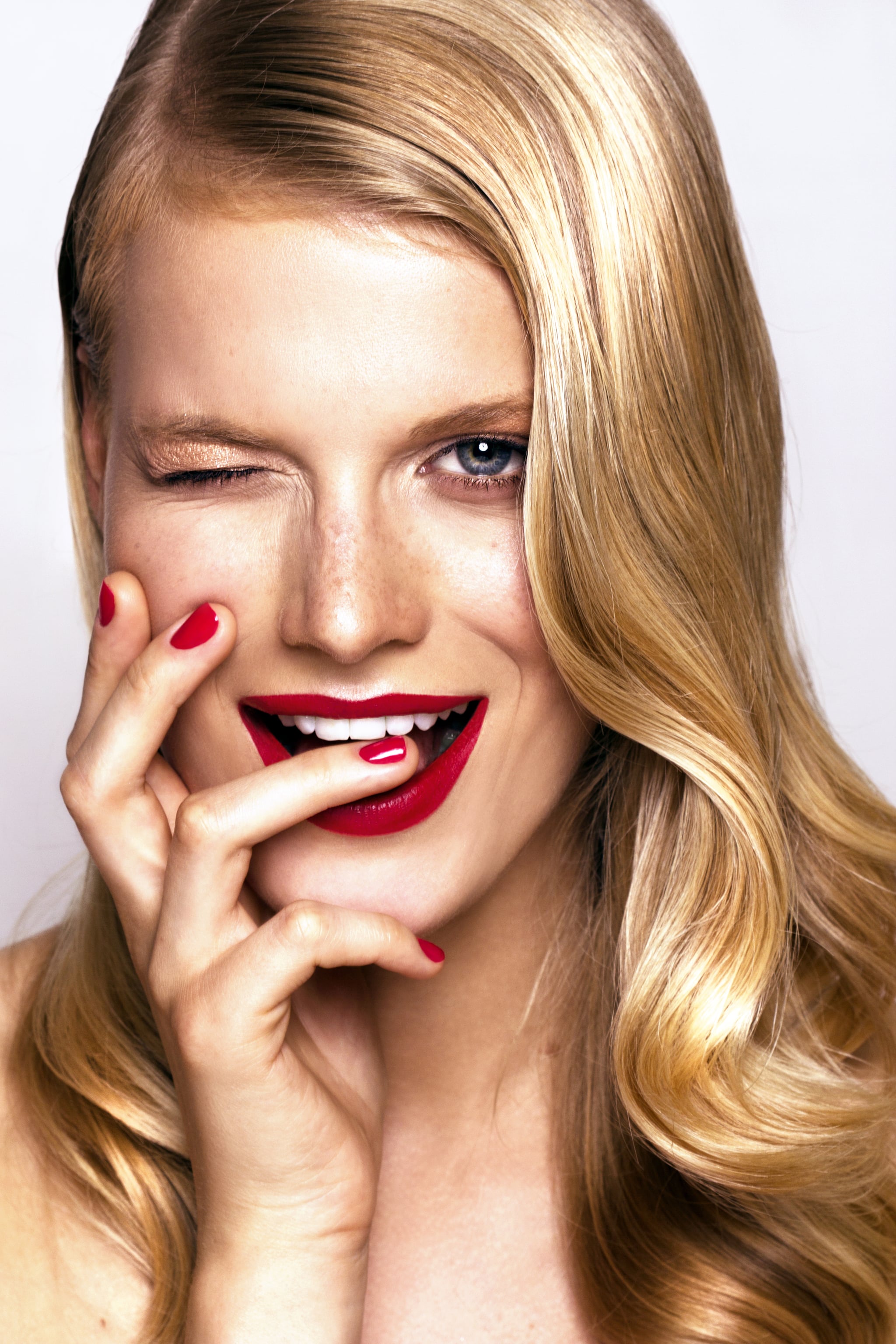 My name is Alison and I am a perfect teeth addict. It all started a few years ago before I got married. Like every crazed bride, I wanted straight, white teeth for the big day. I wanted my teeth to enter the room before I did. I wanted celebrity teeth. It hasn't been super cheap but I paid off my pearlers monthly so it wasn't too bad. Can you even put a price on perfection? I don't think so.
If you've been staring at your teeth wondering how you can make them look more, well, perfect, then I highly recommend you have an Invisalign assessment. The orthodontist can give you an accurate image of how straight they can get your teeth on the day. The other tip after treatment, is ask to have your teeth filed. This will create that Lara Worthington straight edge we've all screen-shotted at least once.

I think I had her teeth pinned to a creepy smile board at one point.
OK I don't think, I know I did that. Hi Lara if you are reading this.
So fast-forward three years and the whitening treatments I had done pre-Invisalign and then again after, had started to fade to a mediocre off-white. Not to Alison's teeth standards! I was pretty apprehensive to get it done again as the second time I had to stop the treatment halfway due to intense pain. The orthodontist was very well-regarded, as was the treatment, but even numbing needles didn't help. There's your warning — Invisalign might make your teeth as sensitive as it did mine. I'm fine with all cold food and drinks, just not teeth-whitening systems that dehydrate the tooth.
Sick of not having the whitest teeth in the room, I got to Googling teeth whitening treatments for sensitive teeth. I stumbled upon Smartbleach, and then did further investigative work to find practitioners. Within 30 minutes I had emailed The Dental Spa in Sydney's Bondi Junction, made an appointment and felt very smug. But also nervous.
As the day neared I started to get flashbacks of being strapped down with a light in my mouth and feeling like someone was stabbing my teeth. Not good. I went after work on a Friday and was so pleased to be greeted by a dental assistant from the Invisalign practice! She'd changed jobs and I instantly felt more at ease. Is it weird I know all the dental peeps in Sydney? Maybe.
Phoebe took me through the consent forms and then Dr. Ellie Pikoulas came out to continue soothing this very scared 31-year-old. She explained that the treatment I had done before was known to cause pain and sensitivity, but that with Smartbleach, most patients feel nothing. She said some patients report a tingling sensation during the treatment but no anaesthetic injections or needles would be used. Dr. Pikoulas also said this particular treatment works well for stains caused by antibiotics.
Here's How It All Went Down
Warning: Large and kind of graphic pictures of my teeth coming up. I figured if I wasn't going to share the images what is the point? There's just no graceful way to show you inside my mouth without showing you . . . inside my mouth.
Dr. Pikoulas sat me in the chair and informed me there was Netflix on a TV attached the roof. How amazing is it to be alive and at the dentist in 2017? She asked me to pick a show and gave me headphones. From there, she performed a regular teeth clean and put some numbing powder on my teeth, just in case.
Then she got to work setting me up. Probably the only uncomfortable part is having your mouth stretched to an odd degree, and needing to deal with that for 45 minutes. There was a rubber mouth piece placed inside my gums and then a gel insert to bite down on.
After selecting the always classic and feel good 10 Things I Hate About You, Dr. Pikoulas applied the gum guard to my gummies. She also told me they are receding from brushing too hard. Did you know you can get gum grafts? Anyway — it's now a baby toothbrush life for me.

She then applied the patented Smartbleach gel to my teeth. A pure green light was then shined onto the gel. It is this specific interaction between the Smartbleach laser and the gel which whitens the teeth. Worth noting it is exclusive to Smartbleach and the reason for the superior results.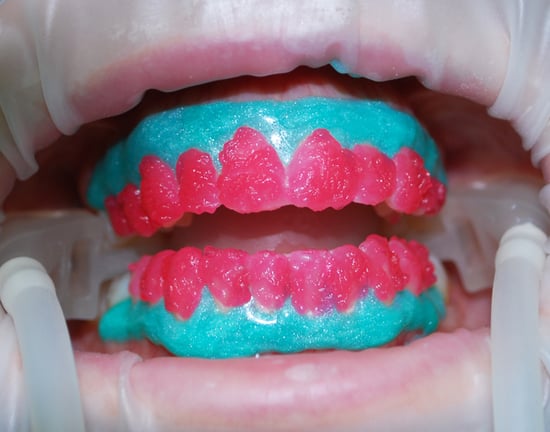 Then, I waited for the pain.
It never came! Not once did I feel any sensitivity. The only thing that hurt was my mouth being stretched a bit. And it's also a bit stressful needing to stay very still for four, nine minutes rounds of the light. Likely only for me, as she said the week before someone fell asleep.
What Dr. Pikoulas explained to me is Smartbleach does not heat the pulp of the tooth as other teeth whitening systems can (like the one I had twice) so it protects the teeth during the teeth-whitening treatment. Below you can see the solution after the four rounds of light. It almost looks baked!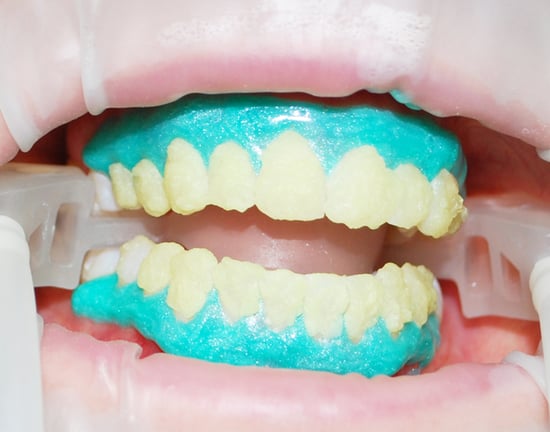 Following the treatment, I couldn't eat or drink anything fun for at least 48 hours. No dark food or drink, including the usual suspects like red wine and coffee, but also regular foods like tomato and baby spinach. But I have to admit, having an excuse to eat pasta (with white sauce) wasn't so bad. The image below is my "after", but has served a dual purpose as I now also see I need to try face shaving.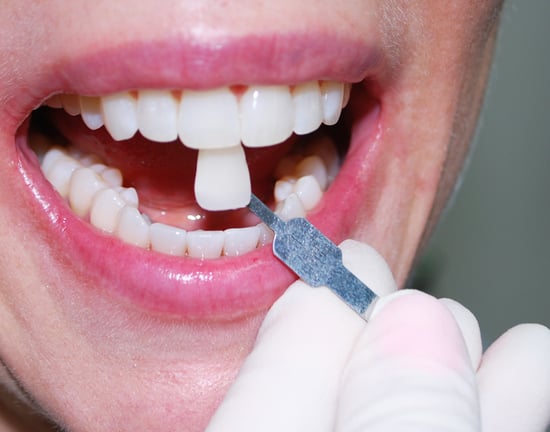 I had a couple of "zings" in the two days following the treatment, but they last a second and weren't nearly as painful as what I had experienced after my other teeth whitening sessions.
You can contact The Dental Spa for a consultation and to get a quote. It's important for me to note here that I did pay, and this review is not sponsored in any way. I had a great experience and wanted to share it.