Bella Review: St. Tropez Self Tan Bronzing Mousse and St. Tropez Self Tan Dark Mousse
Bella Review: St. Tropez Self Tan Bronzing Mousse Vs The New Self Tan Dark Mousse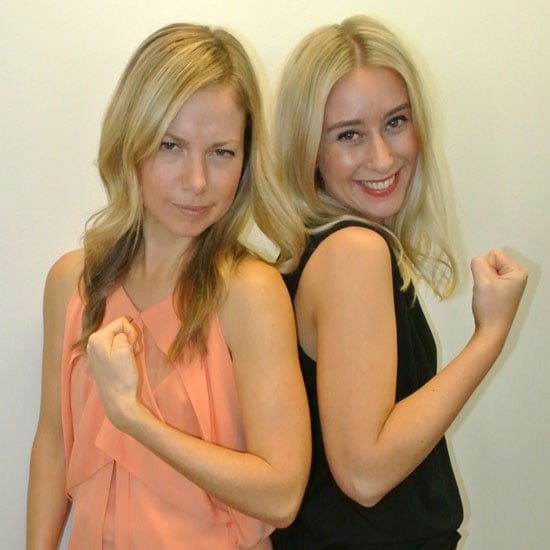 If there is a new tan on the market, you can bet your way-too-brown elbow I'll trial it. Self tanning is the easiest way to look fresh and glowing, and you don't have to sacrifice your skin's health! There's a lot to choose from in terms of brands, but what I'm often confused with is the shades — we're all pretty fair-skinned here at Sugar, so, should we stick to a light to medium tan? Or can we rock dark as well? Applying a dark tan can be nerve racking if you're naturally fair — just ask FabSugar's editor, Ali (left). We had her try St. Tropez Self Tan Dark Mousse ($59.95 200ml), while I gave the staple St. Tropez Self Tan Bronzing Mousse ($53.96 240ml) a go. Click through to find out the results.
Ali: "I'm a big St. Tropez faux tan fan, so was keen as mustard to test-drive the new foam tanner – although the 'extra-dark' formulation did worry me as I am currently so pale I positively glow in the dark. However, after one late night application I can safely say this new tanner is just as good as the original, but with more Mediterranean-Summer-glow for your buck.
"I applied one thin layer with a mitt (essential) overnight, and today I am pretty natural looking, but with decent depth of colour. Warning: the foam does look very dark – think almost forest green – so be careful with your application. Use small pumps, use a mitt, and attack smaller areas at a time. It's important to rub  the tan in thoroughly before moving to the next patch of skin. There's a little more risk involved – but I think if you're somewhat careful you get what looks like a double-application for the time-price of a single." 
Bella beauty stars: 4.5/5
Product in a nutshell: A super lightweight velvety mousse that is easy to apply and delivers a deep bronze in one application. It has aloe vera gel and new Vegetan Premium.
Who should use it: Both tanning pros and those new to tanning who want a deeper bronze. Also, busy people who want a no-fuss, no-mess approach to at-home tanning.
Why we love it: It was easy to apply, doesn't smell and isn't really dark. Think of it more as the perfect deep bronze.
Stockists: 13 33 57
Alison: "This was my first time using the St. Tropez Applicator Mitt ($12.95) with the St. Tropez product and I have to say, it is my favourite mitt to date. The velvety side is super smooth and I found it made the process so much easier. And, no stained hands! I exfoliated first using St. Tropez Tan Optimiser Body Polish ($30.56) – exfoliating is essential before tanning.
"I was pretty generous with the mousse because it is the lighter shade, and it dried in a couple of minutes so I was able to pop into my pj's and go straight to bed.
"When I woke up this morning, I was worried I'd overdone it, but it was so fine! In fact, I probably could have put on another coat. I like a deep colour, so next time, I'll use the new Self Tan Dark Mousse, or I'll go for a second coat of the Self Tan Bronzing Mousse."
Bella beauty stars Alison: 4/5
Product in a nutshell: A mousse tan that is perfect for building the colour you desire.
Who should use it: Those who are new to fake tanning and want to start slow. Also perfect for very pale skin.
Why we love it: When used with the mitt, this tan is fool-proof! It doesn't smell (at all), and it dries really quickly so you can go in for another coat if you want to.
Stockists: 13 33 57