Benefit Launches Acne and Pimple Treatment: Boo Boo Zap
Benefit Gets into The Zit Zappin' Game With Boo Boo Zap!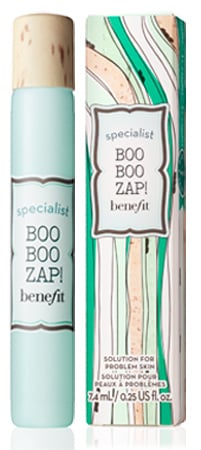 Benefit launched its b.right! skincare line to rave reviews mid-last year with a focus on radiance and hydration, and now it's following up with its first-ever treatment product: Boo Boo Zap! ($28). The targeted acne treatment is enriched with salicylic and glycolic acids to help de-clog pores and dry out existing blemishes as well as preventing new breakouts from forming. The purifying clear liquid can be dabbed onto problem areas 1-3 times a day to reduce redness and swelling. The easiest way to apply it is to dip a cotton bud in the top of the bottle, allowing it to soak before holding that against the pimple — this will save the skin around the spot from drying out.
Benefit Boo Boo Zap! will be available from May 19. Stockists: 02 8353 5000.