Best Anti-Ageing Facials For Spring 2016
4 Facials That Will Reset Your Skin For Spring
I'm a little bit picky when it comes to entrusting my skin to someone else. It's been a long journey to get it to where I am right now — and not to mention, an investment — so I like to know all the details of a treatment before signing myself up.
That being said, it's the nature of my role as a beauty editor to trial and test new treatments and regimens to see what they're like first-hand. And with so many out there (it can be quite overwhelming) I've chosen the crème de la crème of treatments that I'm currently obsessed with. I'm thanking them (and their expert hands) for clearer, smoother and more radiant skin.
Not just your regular cleanse, scrub and mask — these are the power players that will give you real results and get your skin reset for the new season.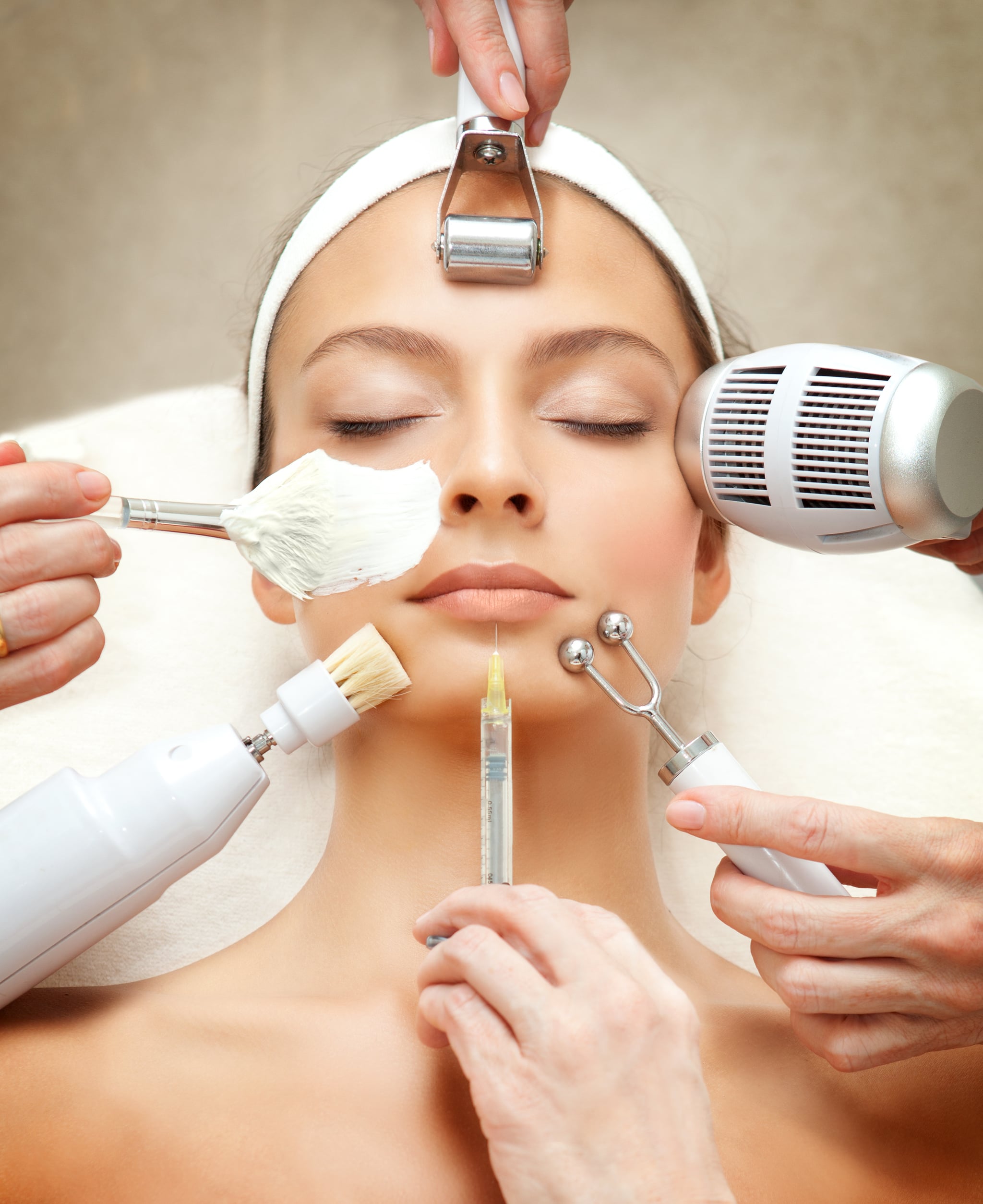 1. Dermalogica IonActive Power Treatment
What: With six actives to choose from — your therapist will pick the one best for you after a full consultation — this treatment uses ionic charges to help push the ingredients deep into the skin for optimum results. I had the hyaluronic acid IonActive concentrate that helps with skin hydration levels and texture.
The machine that they use works with the ionised formulas for ultimate penetration of product into your skin — I was seriously glowing immediately, and for almost two weeks after my skin was still very smooth. This is a great option for someone who is just dipping their toe into cosmeceutical treatments, as it's really relaxing and leaves you feeling totally revived.
Where: The Dermalogica head office in Crows Nest is where I was treated, but you can check their website for your nearest stockist. Always double check your clinic is a registered Dermalogica stockist (as there are a few dupes out there) on their website before booking in, to stop the risk of any adverse effects.
How Much: From $140 for 45 minutes.
2. Melanie Grant Bespoke Peel
What: Mel is the wonder woman behind some of Australia's most beautiful faces — Jessica Gomes, Lara Worthington and Nicole Trunfio are all fans — so it's always an absolute treat to have her service your skin. Her speciality is offering bespoke facials that address your specific skin concerns. My favourite is her bespoke peel, which she usually pairs with Ominlux (see below) for incredibly glowy results.
Using cosmeceutical-grade products with either glycolic, lactic or alpha-hydroxy acids, your skin is chemically exfoliated, removing dull skin, encouraging cell growth and retexsurfacing your complexion. Your left feeling smoother, brighter and totally refreshed.
Where: My sanctuary is the stunning Melanie Grant clinic in Double Bay. But she's just opened a second practice in Armadale, Melbourne.
How Much: Price on consultation (approx $450).
3. Clear and Brilliant Laser Facial
What: This is considered the "baby" of lasers and is made by the same company as Fraxel — but don't let that scare you. I've detailed the treatment here, but a couple of months on I'm still loving the pore-reducing, skin-clearing and resurfacing results. I swear my skin has never been so good.
Where: I went to Ageless Clinics in Bondi (Dr. Jeremy Cumpston is a beauty editor favourite), but you can also find other locations by looking on the Clear and Brilliant website. This treatment does require some down time, so ensure you're going to a place you trust 100 percent and have a full consultation before you commit.
How Much: From $400, which includes numbing cream and a hyaluronic mask, for a 40 minute treatment — but you need to allow at least half an hour prior to treatment for the numbing cream.
4. Omnilux Light Therapy
What: Omniliux Combination Light Therapy uses blue LEDs in conjunction with red LEDs to reduce inflammation and redness, stimulate cell growth, decrease pore size and stabilise oil production. I went for the Revive Treatment which uses a red light to help stimulate cell turnover and help perfect your skin.
Essentially you're given small blackout goggles and are put under a very bright red light. It's slightly warm and entirely pleasant — I very regularly fall asleep! But it's not just amazing for your skin, it's known as the "happy light" because it also stimulates your brain to produce serotonin, so you walk away feeling really good!
Where: I visited Face Plus Medispa in Bondi Junction (and I also get it at Melanie Grant), but you can find other locations on the Omnilux website.
How Much: From $140 for a full face treatment, and $100 as a facial add-on.