Best Gentle Cleanser For Removing Makeup
This Cleanser Power-Washes My Makeup Off — Without Sucking the Dear Life Out of My Skin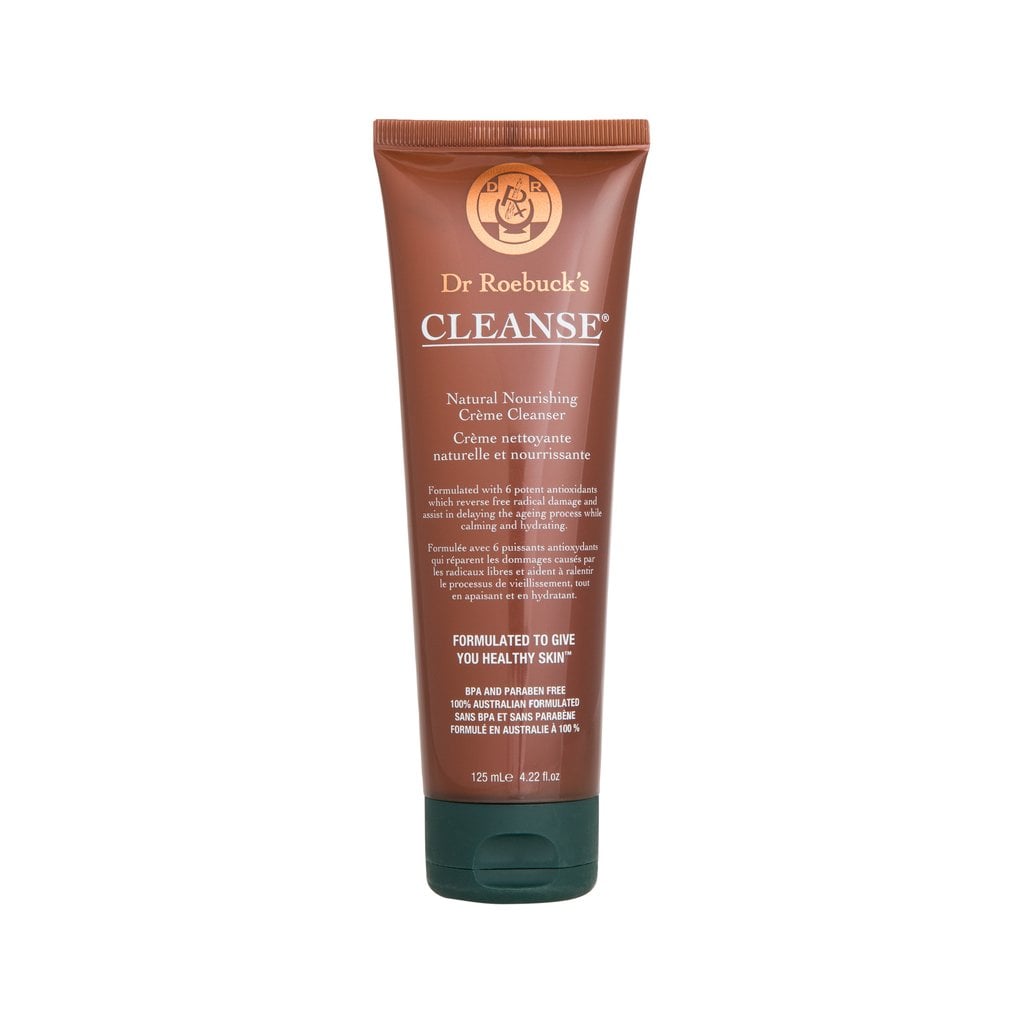 As a longtime editor and a woman whose beauty aesthetic was largely shaped by the glam-rock '80s cartoon Jem and the Holograms, I am predestined to both hoard skincare products and indulge in makeup. I'm also obsessive about ensuring that every trace of gunk and pigment is banished from my face before I go to bed, no matter how much Chardonnay I've had to drink. Because of this, face washes — much like live-action remakes of my favourite childhood TV shows — consistently let me down. So you can imagine my surprise when Dr. Roebuck's Natural Nourishing Crème Cleanser ($23.95) did not.
I met Kim Devin, who runs Dr. Roebuck's with her sister, Zoe Kelly, at a press event at LA's Le Jolie Spa this week. Kim has the kind of elusive, gleaming skin and effortless hair endemic to many Australian women, and I instantly wanted to use whatever products she was using and become her closest confidante. Kim told me the brand was originally created by their father, Dr. Roebuck himself, who was all-natural obsessed well before it was considered hip or even mainstream. (I grew up eating dense multigrain bread mandated by my Jazzercising mum while lusting after my friends' Wonderbread sandwiches, so I can relate.)
After I took an iPad quiz that asked me about my sleeping, drinking, and exercise habits and general stress levels, Kim whipped up a custom serum for me and sent me off with samples of their delightful Bondi Hydrating Mist, Polish 2-in-1 Mask and Scrub, Ultimate Hydrating Serum, and the cleanser. I'll be blunt: rarely do I get excited about face washes. I view them as a utilitarian product I simply must get out of the way . . . before slathering on my witch's brew of serums and oils and creams and other concoctions I'm convinced will actually, like, change my skin. But, naturally, the Natural Nourishing Crème Cleanser was the first Dr. Roebuck's product I tried that night, and WHOA.
Here's the thing: without fail, I end up with a grimy unibrow of foundation and eye makeup residue in that spot between my eyes and forehead when I wash my face at night. I am forced to then blast away at the stubborn patch with eye makeup remover, or the paint thinner-strong astringent in my boyfriend's medicine cabinet, neither of which is great for my skin. But one wash with the luxuriously thick, gently foaming Crème Cleanser, and my Bermuda Triangle of filth had vanished. I patted my face dry. I would use the phrase "squeaky clean" to describe how it felt, but that conjures images of overly taught skin screaming to be quenched. Instead, I felt like I'd followed up a deep-cleaning clay treatment with a luxe, moisturising sheet mask. And all I'd done was lazily wash my face with my fingertips for 20 seconds!
I'm no chemist, but I think the fact that the potent cleansers here are balanced with jojoba and macadamia nut oil, shea butter, and anti-inflammatories like oat leaf make this face wash so effective, without leaving my skin feeling like it's the Monday morning after Coachella. And, true to Dr. Roebuck's crunchy roots, it's also vegan and cruelty-free; devoid of parabens, sulfates, and phthlates; and packaged in 100 percent recyclable materials, which makes me feel just as pure and virtuous as my face after I wash it with the stuff.