Beyonce's Faux Tattoos Are Out and Smaller: Would You Buy Them?
Beyoncé's Temporary Tatts Launched, But They're Small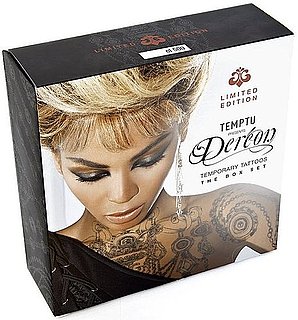 You guys seemed pretty pumped for Beyoncé's House of Deréon's temporary tattoos when I told you about them a coupla months ago. What's not to love? They're cheaper than the Chanel ones, which, being limited edition and adorned with the covetable interlocking C are long gone, and available to buy online. And now they're finally here. Woot!
With all of the buzz surrounding permanent tattoo removal — Kelly O got her ink reversed — these are a smart try-before-you-buy way to see what inking up would be like. Each box is approx $16.20, save for the limited-edition deluxe Temptu set (approx $34.40). That one includes 24 temporary tattoos, along with a poster "digitally autographed" by Beyoncé. Just be aware that the faux ink has been scaled down from the designs shown off by Beyoncé for the Fall 2010 House of Deréon campaign. Reckon you'll buy them? Are you ov-ah the temporary tattoos? I was, until I saw Leighton Meester rockin' a Chanel one yesterday . . .