Beyonce "Why Don't You Love Me?" Video and Makeup How To
Get Beyonce's "Why Don't You Love Me?" Video Look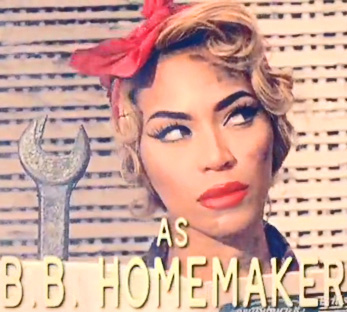 Beyonce's hot new video for her song "Why Don't You Love Me?" features some seriously (Sasha) fierce retro makeup. Here's all the advice you need to copy B's homewrecking homemaker style . . .
Beyonce switches up her lip look several times throughout the video, from a gorgeous matte red to purple to glossy pink, but her dramatic winged liner remains the same. To create her elongated cat eye, begin by water-lining the rim of your upper and lower lid with black waterproof liner. Then, using a liquid liner, draw a slightly upward angled line that begins in your inner V and ends at the centre of your lid. Draw another, straighter line from the top point of your centre lid out right to the end of your brow. Fill in under the lines to thicken.
For the more dramatic "bedroom" look she wears, use silver shadow as an under-eye liner, sweeping it along your lower lash line until it joins your liquid liner.