Can You Use Bath Bomb as a Highlighter?
Dermatologist Warns: Do Not Use Bath Bombs as Highlighter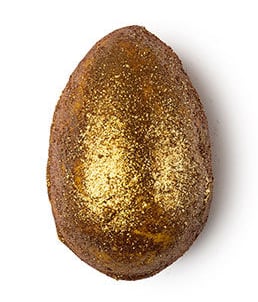 When we heard people were using shimmery bath bombs as highlighter, we were skeptical. Listen, we're all about multiuse products and hacks. Rub your blush on your lip, use eye shadow to strobe, gloss eyelashes with clear brow gel — go wild. But when it comes to mixing skin and body care, you may want to be extra cautious — especially if you have sensitive skin.
The backstory is that Twitter users have been sharing their stories of dabbing Lush Golden Egg Bath Bomb Melt (which is absolutely gorgeous!) on their cheeks as highlighter. Cute — but is it safe?
*goes to lush to rub our fingers on a bath bomb to use as highlighter* @omgemiIy pic.twitter.com/NBLC2nyAGd

— jayk (@jjjxyk) October 17, 2016
Yo I can use this new bath bomb as a highlighter😍

— Kat (@TRUEs_life) January 10, 2017
We interviewed Dr. Michele Farber of Schweiger Dermatology Group in NYC to get an expert option.
"While the Lush products contain many ingredients that are good for your skin, the bath bomb contains ingredients that are meant to be washed off rather than used as a leave-on product," Dr. Farber told us via email. "It is best to stick to using the Lush Gold Egg Bath Bomb as it was originally intended — as a bubble bath soak. The thicker oils in the product may leave your body feeling great, but may cause irritation when left on the face, particularly for those with sensitive skin."
Here's the thing: Lush is known for having all-natural, vegan products. So we needed to really understand why putting it on our cheeks could be problematic. "While it has ingredients like cocoa butter and olive oil that will moisturise your skin, it does contain fragrances that are found generally in cosmetic products," she explained. "Anyone prone to eczema or with more sensitive skin may react to fragrances in care products."
Now that you may be a bit scared, this is what you need to know when shopping for bath bombs. "In general, thick oils, fragrances, and parabens, which are used as preservatives, can cause breakouts and irritate sensitive skin," Dr. Farber explained. "It is important to treat your face gently and avoid these ingredients if you are prone to acne or eczema."
OK, but what if you really want to try the bath bomb highlighter hack — even if only for Instagram? "It is important to realise that people may react differently to new products," the doctor noted. "If trying a new product or beauty trend, it is always a good idea to try a test spot first if your skin is sensitive."
The bottom line, kids, is don't try this one at home. Instead, shop our favorite highlighters here.