Celebrity Beauty Tips: Sandra Bullock Red Lipstick In London
Smokin' Sandra: Steal Her Vampy Beauty Look This Weekend!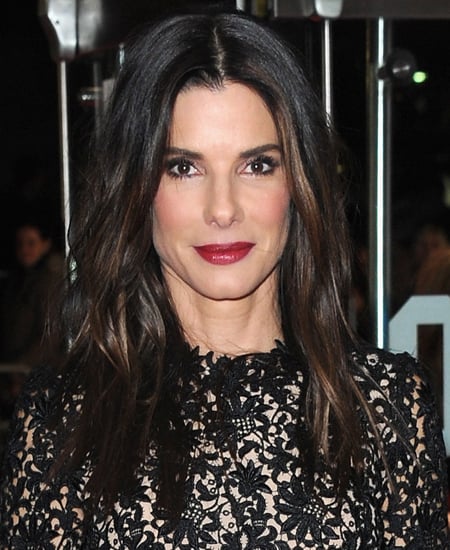 We've said it before, and we'll say it again: Sandra Bullock is unstoppable. She's been in the industry for years, but there's nothing stale about this leading lady. Last night in London, the Gravity actress stepped out in a little black dress that showed off her fine form, but we couldn't take our eyes off her hair and makeup. That delicious burnt-red lip was the focal point, and rightly so — look how perfect it is! Getting a firm line like that takes a bit of practice, and many people have trouble with the edges of their lipstick bleeding into tiny cracks around their lips. Happily, getting the look right is all too easy.
To recreate this perfect pout this weekend (watch out, world!), you need to arm yourself with a good lip balm, a liner, and a red to rival Sandra's. Slather your lips in balm at least a few hours before the big event, to moisturise, plump and seal them, then line and lightly fill them with a red liner to match your lipstick colour. In this instance, we suggest using Napoleon Perdis Lip Pencil in Rococo Red ($23.80). Once your lips are lined, coat them in NARS Velvet Matte Lip Pencil in Cruella ($39). Smooth the colour with your fingertips, ruffle your hair with your fingers, and you are ready! Too easy.