Chanel Particuliere Dupes
Less Expensive Alternatives to the Season's Hottest Nail Shade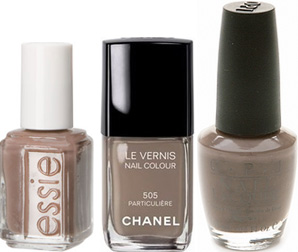 People everywhere are dying to get their hands on Chanel's new "it" nail shade Particulière which has been generating buzz since the models wore it on the runways in Paris last year. It's due out on Sunday, 21 February and Pop has had her name down on the waiting list for-ever. Unfortunately, it's nearly $40, which some consider to be a little pricey for polish. Personally I think there's nothing like the real thing, but you could try these ones for size . . .
The best match by far is OPI You Don't Know Jacques! ($19.95), which really does look like Particulière from a distance.
Another very close shade is Essie Mink Muffs ($18.95), which is slightly more brown than the Chanel colour. With a grey or white base coat though, it can be made pretty convincing.
Orly Prince Charming ($18.95), which is due out in March, is another great dupe. Slightly more mushroomy, but hey, I won't tell if you don't.
Stockists: Essie (02 9477 6900), OPI (1800 358 999)