Christy Turlington and Avon Launch New Perfume Called Slip Into . . .
Christy Turlington Slips Into . . . a Sexy Scent For Avon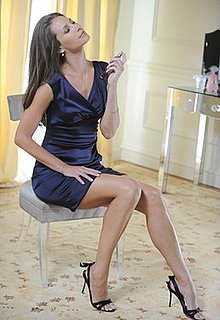 Christy Turlington has said she doesn't wear high heels very often, but she apparently appreciates them enough to be the face of an Avon perfume inspired by sky-high shoes. The new fragrance, called Slip Into . . . , is an oriental floral with notes of blackberry, freesia, violet, rosewood, orchid, Cashmeran, orris and amber that's due out next year.
It sounds very flowery and a little sweet, and Christy says that she wears the fragrance "if I want to elevate my spirit or if I'm going out. And if I'm putting on a pair of heels, I am definitely putting on fragrance." Would you be interested in spritzing Slip Into . . . on with your favourite pair of heels or are you D to the Done with all these shoe-inspired scents?
Psst. What do you think of the ad image that's been released? I don't think it looks anything like Christy!