Copy Blake Lively's Fishtail Braid
Copy Blake Lively's Fishtail Braid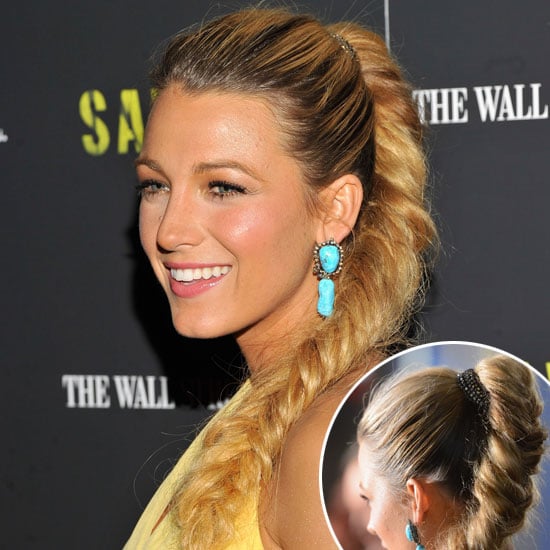 Blake Lively's continuing to dominate red carpets across the US as she promotes her new movie Savages. From old Hollywood waves to a beach babe textured up 'do, Blake's most recent hairstyle, at the NYC premiere, is the best of both worlds: statement-making, yet simple to recreate. Read on for our step-by-step instructions to creating a fishtail plait and remember, if you're looking to get your braid nice and chunky like Blake's, consider clipping in some hair extensions before you start. Try Schwarzkopf Magic Hair Extensions ($44.95).
Begin by pulling hair back into a ponytail (you can skip this step if you want a more casual feel to the braid; simply jump to step two and separate strands at the nape of the neck).
Next separate the ponytail into two even sections
Take about a half-inch portion of hair from the outer side of the right-hand section and cross it over so that it joins the left-hand section on the inside.
Repeat the action but this time on the left-hand side.
Depending on how chunky you want your braid to be, you can alter the width of the portions of hair you take. If you take a wider section your braid will be chunkier.
Continue to cross the portions over until you reach about two inches from the bottom of your hair. Then secure the braid with an elastic.
To style, you can bring the braid over one shoulder if it's long enough.
If you want a more textured, less polished end result that is similar to Blake's, hold onto the bottom of the braid at the elastic and begin to gently push the hair upwards, creating a more lived-in texture. Move your fingers up the braid and repeat the action, holding with one hand and pushing up with the other, to create the effect the full way up the braid.
Finally, finish off the ponytail with a jewelled or metallic band to add something special to the style. Try these options: Sportsgirl Silver Clean Covered Band ($9.95) or Topshop Gold Section Top Knot (approx $13.50) and secure with hairspray.