Copy Zooey Deschanel's Cool Nail Art Design at Home
Get The Look: Zooey Deschanel's Nail Art at the ESPY Awards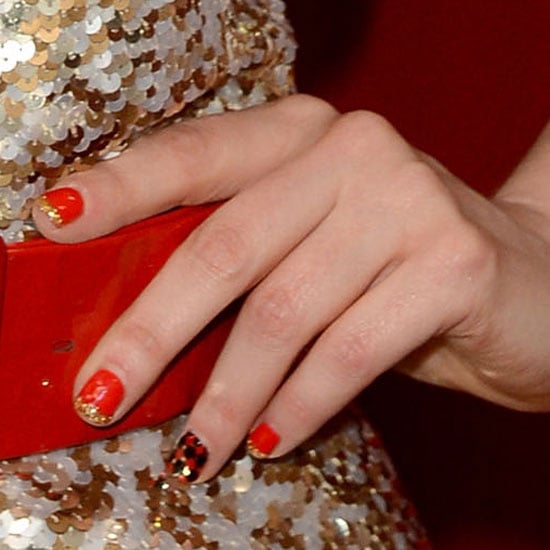 She's made no secret of the fact she loves to play around with nail art and cute colours for events, and Zooey Deschanel's red, gold and black nails were a standout feature of her red carpet style once again at the ESPY Awards in LA today. Although it might look complicated at first glance, Zooey's nail art design is surprisingly easy to do at home. Find out how, after the break.
1. Apply a base coat to protect your natural nails, because layered polish tends to be thick and can cause stains. We love Essie Protein Base Coat (approx $13.95).
2. Apply a coat of your favourite red nail polish to all of your fingers nails. Leave these to dry for about 10 minutes.
3. Apply a nail wrap sticker to both ring finger nails (the one next to your pinkie!). You can pick any pattern you like for this, but to stay true to Zooey's design, try and find a lace-look or plain black pattern. We love the Nail Rock Designer Collection Romance Was Born — Halftone ($7.65) edition, that the label designed.
4. Apply a second coat of your red polish to the remaining eight finger nails (so exclude the two nails with the nail wraps) and allow another five to 10 minutes to dry.
5. Take a gold nail polish — like Bloom Gold Sparkle Top Coat ($19.95) — and either paint and thin stripe along the top of all the nails without nail wraps, or use a cotton tip dipped into the glitter to apply (or even the end of a bobby pin!). If you want more glitter, just wait five minutes for the stripe to dry, then apply another coat.
6. As the final step, apply a generous splash of top coat to all nails, and be sure to allow plenty of time for them to dry. All that work, it's be a shame to smudge them. If you're in a hurry, check out our tips for drying polish quickly.