It Cosmetics Bye Bye Redness Correcting Cream Review
This Concealer Was Made For Rosacea, but Is Baller at Covering Acne Scars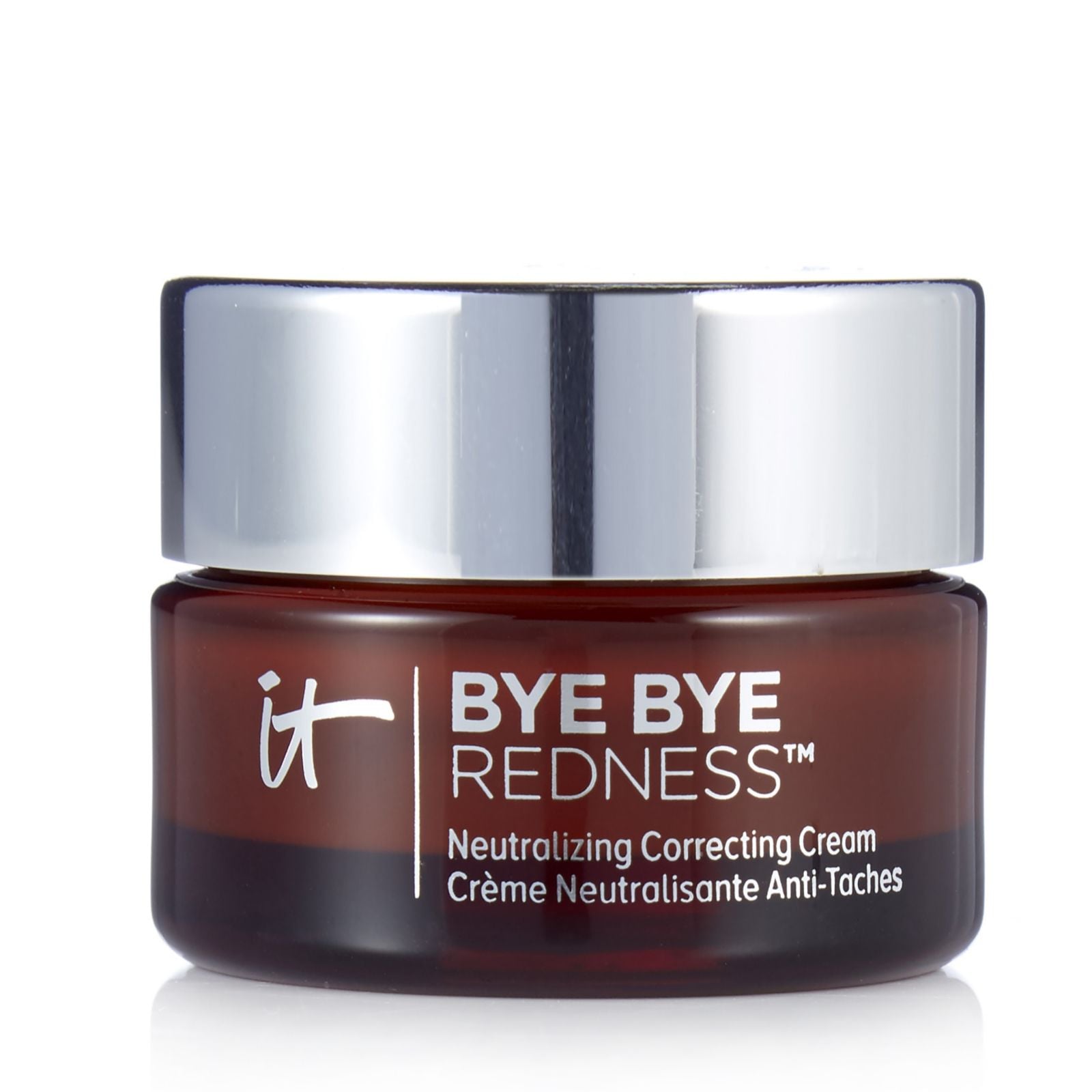 If you have fair to medium skin, you know the agony of the acne scar. No, I'm not talking about actual scars, but rather the post-acne red marks that are also commonly referred to by the same name. Technically they're called postinflammatory hyperpigmentation, but that doesn't really roll off the tongue quite as well when you are cursing at them in the mirror.
Those red marks (if you have darker skin, they will manifest as brown spots) are a byproduct of the inflammation caused by an acne lesion (read: pimple), says Kavita Mariwalla, MD, FAAD, a New York dermatologist. She does note that not every complexion reacts the same way.
For some, a cyst will cause a lingering red mark while for others it takes nothing more than a run-of-the-mill pimple. And how long they last on your skin can be anywhere from one to three months — more if you pick and poke at it (oops).
"The skin turns over once every 28 days — 14 if you are using a retinoid," she explained. "So it takes at least one to two turns of the skin shedding and renewing itself for that hyperpigmentation to resolve."
In my case, which is being 34-years-old and still dealing with cystic hormonal breakouts, that means at any given time my face will have a mix of red spots and active pimples. And those marks are almost just as hard to cover up as a blemish. Name a concealer and I have tried it to varying degrees of success, none of which was entirely satisfactory. And then I stumbled upon It Cosmetics's Bye Bye Redness Correcting Cream ($54).
Originally intended for those suffering from rosacea and eczema, this redness-neutralising cream comes in three shades and has an irritation-soothing, sensitive-skin-comforting formula made up of colloidal oatmeal, peptides, hydrolysed collagen, aloe, and avocado to calm, smooth, and hydrate the skin.
"If you have redness of any type, one of the most frustrating things is most [makeup] products are either yellow or green," notes It Cosmetics co-founder and CEO Jamie Kern Lima. "[Meaning] you apply them and they cancel redness, but then you have green or yellow on your skin so then you have to apply yet another layer of product to cover that up." Sound familiar?
But It Cosmetics solved that particular conundrum by infusing "micronised green and yellow pigments to erase redness," said Lima, "then added full coverage skin-tone pigments so it truly erases redness, treats it, plus transforms to your skin tone so you don't need another step after." Oh, really? Challenge accepted.
In the midst of a truly breathtaking display of utter jerkitude from my skin, I grabbed a pot of the Light Beige hue and, targeting the splay of red marks across my cheeks and jawline, I dutifully patted it on. The product itself is creamy, but it was much lighter and more fluid than the usual full-coverage concealers I was used to. It adhered to my skin, which is pretty impressive considering most concealers with claims of hydration and skin benefits usually just slip-slide over the issues you are trying to cover up.
And then, boom: my skin, while by no means flawless, now looked like the colour nature had given me rather than like I got backhanded in the face by an angry strawberry. Success! Well, partially: because the product was not an exact match to my skin, it looked a little splotchy. It's not technically meant to be applied all over your face like a foundation. And if it is, then it's in way too small of a jar.
So I apply my usual foundation (which does a meh job at hiding redness) followed by the correcting cream. The result is about as close as I'm ever going to come to an even complexion, which is a helluva lot closer than I've currently ever been.