Dannii Minogue Shares Her Beauty Tips and Secrets
Dannii Minogue Shares Her Hair and Makeup Secrets With Us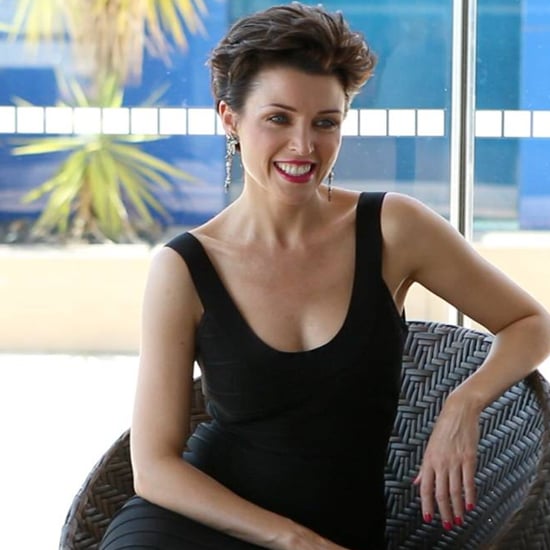 Yesterday we went behind the scenes with Dannii Minogue on her latest ModelCo shoot and we were also lucky enough to grab five minutes of the busy mum's time to talk about her role with the brand, her hair and makeup must-haves, and the best bit of beauty advice she's picked up from the pros after being in the spotlight for most of her life. Read on for the full interview.
How did you feel when ModelCo asked you to be the face of Fibre Lash Brush on Lashes? I am so excited to be the ambassador for Fibre Lash because it's always in my handbag. You know, I'm a busy mum now so my makeup bag has only got, like, five items in it and this is one of them! The truth is, I actually stalked ModelCo founder Shelley Barrett about Fibre Lash and told her that if she ever stopped making it, she was in big trouble!
What was your favourite part about the shooting the commercial? I had a skip in my step when I saw the little black Hervé Léger dress hanging up for me! Getting dressed up is always fun — and I loved the cupcakes on set, too!
What are you favourite products from the brand? I am a huge fan of Fibre Lash, of course! I also love the Tan Mousse and Lip Lights Lip Gloss.
What Fibre Lash tips do you have for us? Apply one coat for natural va va voom, two coats for vaaaaa va voom and then top coat it with waterproof mascara if you're thinking you might get a little teary — great for emotion-driven days like weddings!
What's your Summer beauty look? Sun block, fake tan, big lashes and glossy lips.
How do you keep in shape? I'm a huge fan of power walking — I try to walk most places (with the pram in front!); not only is it fun for Ethan but with a 17-month toddler I'm definitely getting a workout.
What hair products do you swear by? Kevin Murphy has an amazing range. With my hair cropped short, I love using his Gritty Business to give me volume and keep strays in place. Adding some Texture Master to a slicked look gives incredible hold and shine.
What's a tip you've picked up from the pros that you put into practice? Keep makeup as sheer as you can. Add foundation sparingly and choose a texture that suits your skin type. I like the By Terry Foundation Stick that has small reflective particles in it.