Davidoff Cool Water's Newest Face Paul Walker Talks About Being Sexy
Paul Walker Talks About Fame and Being "Accidentally Sexy"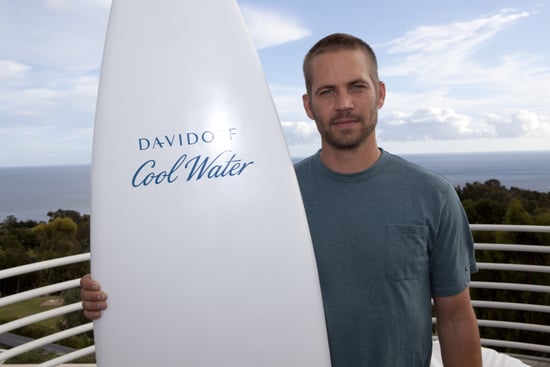 Forgive us for stating the obvious, but Paul Walker is a good-looking man. This is no surprise to anyone who's seen his blue eyes in films like The Fast and the Furious, and the sight of him running shirtless in the new Davidoff Cool Water ad campaign just drives the point home. But if Walker, 38, is aware of his sex symbol status, he doesn't let on. While talking with him in Malibu recently, we found him to be a completely down-to-earth guy. He loves to surf and geeks out over Audubon field guide apps — and he just happens to be the new face of one of the world's best-selling men's fragrances, too. Here's what he had to say about it all.
Read the full interview . . .
We just saw the commercial. It looks good. Did you? Good. It's so weird for me still.
Ah, so you don't have pictures of yourself shirtless around your house? Are you kidding me? That's crazy. My buddies right now are giving me a hard time. It's good, though. It keeps me grounded, having that check around me.
So how did you get ready for the photo shoot and the commercial? I was really stressed. I knew I was going to feel self-conscious. There just wasn't any way that I wasn't going to be, because I knew there was going to be a camera on me, and I knew that it was going to be more posing than I'm accustomed to. A lot of actors are really self-aware, I've worked with a lot of them. Just being around it makes me uneasy and uncomfortable. They're so self-aware that there's no naturalness about them anymore. So in anything I do, I try to be natural. I'm my own gauge: I know what feels real, and I know what feels right. In doing that, I can eliminate a lot of the, I guess you can call it camera shyness. But when you go and do this (motions to the Cool Water ad) you almost have to be more self-aware, because they're going for a certain look. With the commercial end of it, I still kind of felt my own rhythm, which is like, just forget about it. The whole thing to "be sexy." I'm not — I'm mean, I'm just a guy, that's the way I look at it. So I just go into that mentality.
That's surprising, because in the commercial you look comfortable and natural. You mentioned having to feel sexy, but to me when you feel comfortable and natural, that is sexy. To me it is, too, but you have to understand: you're dealing with an Italian director and that word — sexy — they use it much more loosely than we do. The word is interpreted differently here than there. Here it has a different connotation, so I hear it and I'm like, "Sexy? What is that?" So I thought, "I'm just going to run out of the water like I would and I'm going to pretend it's just me and Bianca [Balti, his model co-star]." I just tried to be myself as much as I could.
So you were accidentally sexy. Yeah, there you go!
Tough life. It's so funny. My life is crazy sometimes, but this sort of thing, I always shunned it in the past. I was never really comfortable with it. But the way they came at me with this particular campaign, it didn't feel like a sales pitch at all. It felt very organic. Davidoff was aware of the fact that I have this passion for marine biology, and I was doing this marine conservation work and Expedition Great White. They were like, "You're the perfect fit, and you embody everything that we hold important." I actually like the people that are representing the company that I'm now a part of.
Did you wear Cool Water before this? Yeah. That was a big part of it for me, too. It's like, how do you sell a fragrance in general? It's tough, right? At least it is for me. The circle that I grew up in, it wasn't like all the guys wore fragrance; I was raised around a bunch of police officers and firefighters and contractors. But in junior high school, that was the first time I ever remember ever seeing a Cool Water campaign ad. I thought, "That's cool, that's my element." I was born and raised here in Southern California, and he's coming out of the water and I was just like, "Yeah! I want to be there, I'd maybe want to be that guy." I remember seeing the ad in seventh grade, and my buddy's dad actually had Cool Water. That was the first time I ever smelled it. I think I knew I liked it before I even put it on.
So, you see, fragrance ads do work. In junior high, everyone is gawky and awkward, but now you're the guy in the ad. Does your life surprise you now? If I really think about it, I can go, "Oh wow, this is so weird!" I've done that. I've virtually isolated myself just to get away from it all and to process [fame]. There was a period of time where opinions — I'm just too sensitive to other people, of what they might say and what they might think. In isolating myself, it slowed me down to be introspective without having to worry about the outside voices. I've become centred, and I feel a place of my own around me, I know what's going on and what makes me tick. I think at least enough inner confidence and inner peace to go and say I can do this. My job doesn't define me. It's not who I am, it's what I do from time to time. And as bizarre as that world may be, it's only as bizarre as you allow it. If you have a perspective of what it really is, it's a job — it's a great job, and sometimes there are killer opportunities within that realm. This is one of them. I started REACH OUT Worldwide, and Davidoff made a charitable donation, and another one to a marine conservation group. So everybody's winning here.
I wanted to ask you about your passion for the ocean. How do you feel when you're surfing or when you're around marine life? I don't want to go so deep to say, "Oh, it's an emotional thing," but it's definitely something that I have a strong connection to. I think it's a result of my childhood, and the fact that I was born and raised here. When I was a young kid my mother enrolled me in the Young Rangers programs, and we spent a lot of our Summers and Spring breaks camping at the various state parks up and down the California coast. I went out on tide pool studies and that was reinforced by seeing Jacques Cousteau for the first time on television. Then it was marine science camps. The reason that the ocean is captivating is that it's just so mysterious. It's alien. The second you have the means to get into the water, whether its scuba apparatus because you're going down 30 to 40 feet or whatever it is, you don't know what you're going to see.
Switching gears, I have a random shallow question. On women, is there a fragrance that you really love? You know how everything smells different on different people? Maybe it's a subconscious thing because of pheromones, but there are two fragrances I always remember. My very first girlfriend in high school wore Red, so I always like the way that smells — she was a great girl. And the same with Eternity. Those two always spark good memories.
Scent memory is so strong. From travelling with Cool Water, what do think you're going to remember the most 20 or 30 years from now when you smell it? Conquering fears probably will be a big one. It represents a lot to me, an acceptance of where I am and, I guess, my position in the world. I fought it a long time, and I think in this case I reached acceptance. To me it was a milestone in self-awareness and acceptance, and things just being what they are.