Detox Diary: Review of Lucky You Juice 3-Day Juice Cleanse
Detox Diary: Day 3 of Our Lucky You Juice Cleanse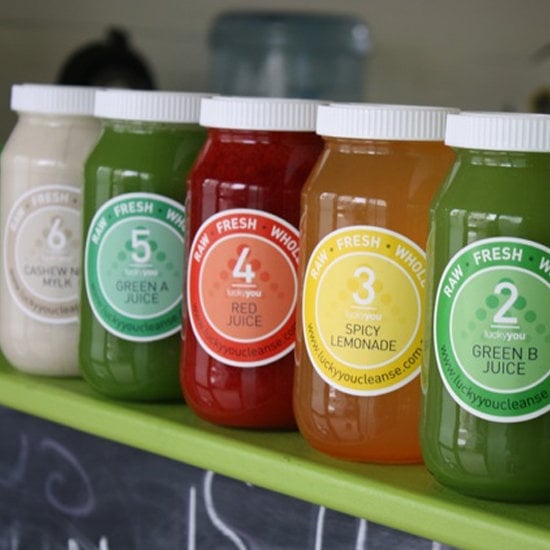 This is the final instalment of our Detox Diary, where we put the three-day Lucky You juice cleanse through its paces. So far the irritable feeling that comes with cutting out solids has been balanced with a gorgeous radiant complexion so what does the final day hold in store?

I'm surprised that throughout the three-day juice cleanse I haven't felt sluggish or tired. In fact, I'm feeling pretty good today despite tackling an insatiable hunger. My stomach feels empty and I'm more than ready to fill it — with something other than liquid. My morning juices go down well but I can't shake the hungry feeling which is distracting me senseless. I cave at lunchtime and nibble on some rice crackers to get me through the next few hours. I feel guilty, no doubt about it, but I'm also undeniably happy to be amongst the land of the eating again!
So what happened after lunch? The afternoon seems to drag on and my tummy's making some really strange noises. Maybe those rice crackers weren't such a good idea after all? I plan on having a low-key night to end the cleanse on a high, but an after work function means I end up at a local Malaysian eatery at about 10pm. This is definitely not what Lucky You encourages and I can barely stomach the delicious treats on offer though manage to inhale some rice and chicken. Stupid mistake. I spend the remainder of the night  battling with severe stomach cramps and a headache. Guess those pesky toxins are back with a vengeance!
Some points to consider if you're wanting to do a juice cleanse:
Do your research. There are a few to choose from so you want to make sure you're getting the freshest produce available. Lucky You only uses seasonal, high-quality and organic (where possible) fruits and vegies which they juice with a hydraulic press.
Choose your timing wisely. It makes more sense to embark on a juice cleanse when your calendar is clear from events (or temptation to indulge). Lucky You offers one, three, five or seven-day cleanses to choose from.
Keep busy. You'll find you have a lot more time on your hands by replacing meals with drinking. This means you'll need more distractions to help pull you through. Exercise, read, watch a DVD and go to bed early.
When the cleanse is over, take it easy. Don't follow my lead and jump into heavy meals straight away. Take Lucky You's advice and start with healthy, fresh food and plenty of water to ease you back into solids.