Detox Diary: Review of Lucky You Juice Cleanse
Detox Diary: Day 1 of Our Lucky You Juice Cleanse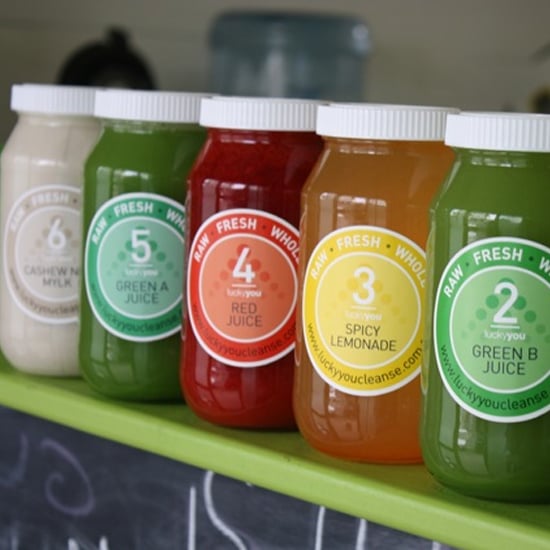 January is the time of year that most of us decide to detox. Whether it's ridding ourselves of all that we indulged in over the silly season or just the kick-start to a healthier new you, juice cleanses are often people's first step. But, if you've never done one, it can be daunting to know what to expect. With this in mind, we recently trialled the Lucky You juice cleanse and charted our journey. So if you want to know what to expect from a juice cleanse, simply read on.
A recent trip to the naturopath saw me obsessing over removing toxins in my life, so embarking on a three-day juice cleanse seemed to be the perfect way to get healthy and lose a few Winter kilos. Day 1 of Lucky You's cleanse starts well — as instructed I gulp water with fresh pieces of lemon shortly followed by the Green Smoothie breakfast drink. Who knew spinach, kale, banana, mango and alkaline water could taste so good? It's seriously delicious stuff and I can see myself trying to replicate the mix at home on a regular basis (Fun Fact: Gwyneth Paltrow gulps a similar mix every morning). I'm feeling good despite the lack of solids so I tuck into Green Juice A shortly afterwards. It's a refreshing mix of green leafy vegetables with apple and cucumber and although I'm starting to eye my colleagues' food, I'm not feeling tempted to sneak a little snack in just yet.
As lunch rolls over I try the Spicy Lemonade juice which combines fresh pressed lemon, green apple, agave, sea salt and cayenne pepper. It's light and easy to drink with just a hint of spice. I'm not going to lie, my stomach's grumbling like nobody's business, but I actually feel more energetic than starved. At about 2pm I guzzle the Yellow juice which is a tangy blend of pineapple, green apple, lettuce and alkaline water. All the juices have been undeniably tasty so far, but my tongue's feeling a little tart from the constant consumption of fruit and vegies. I finish my workday with another Green Juice but struggle to finish it — my stomach's gone into liquid overload. I head home after a function (where I denied a banquet of freshly sliced prosciutto, parmesan and crusty bread) to gulp on my dinner — a more substantial Cashew Nut Milk drink which is made from raw cashews, medjool dates and alkaline water. It tastes sweet and creamy and is a welcome change from all the juicy-juices. I become quite irritable by 8pm and am promptly sent to bed by my husband who is bearing the brunt of my starvation cries. I was warned of the detox symptoms but nothing quite prepared me for such a restless night's sleep. In the early hours of the morning I woke hungry, agitated and slightly delirious wondering how I'd get through the next two days.
Stay tuned tomorrow as we bring you the second installment of our Detox Diary.