Detox Diary: Review of Lucky You Juice Cleanse Day 2
Detox Diary: Day 2 of Our Lucky You Juice Cleanse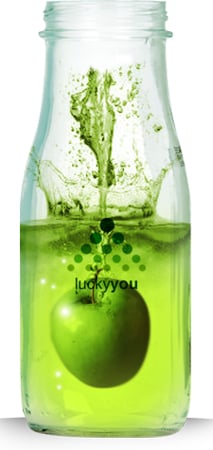 Yesterday we bought you our first instalment of the Detox Diary, an account of our three-day Lucky You juice cleanse. Depsite the juices tasting better than expected, by the end of Day 1 we were feeling irritable, so what did the second day have in store?
I awake feeling surprisingly good despite having such a bad night's sleep. My green smoothie goes down like a dream and fills me up for most of the morning. Today's weather is unexpectedly cool and the following green juice doesn't go down so well. I'm craving something warm and more substantial. The Lucky You peeps remind you to "chew" the juice rather than guzzle it, so I try this approach with my lunchtime Spicy Lemonade. It makes me realise I often eat without actually taking time to chew properly (which helps with digestion) so I keep this in mind. I have an active evening of shopping planned and seem to have a lot of energy without being hungry. I'm also told I look "fresh-faced" and "glowy" which I definitely don't hear every day! I survive the night with a raging tummy but clear head ready to tackle my final day.
Stay tuned tomorrow for the final instalment of our Detox Diary.