Diane Kruger Named the Face of New Calvin Klein Fragrance
Diane Kruger Keeps Her Clothes on For Calvin Klein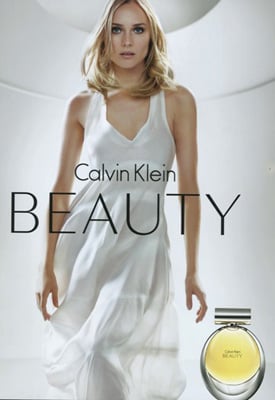 Calvin Klein's fragrance ads typically drip with in-your-face sex appeal (just think: Eva Mendes, Secret Obsession), but the brand's latest venture isn't quite so obviously sultry.
This October marks the launch of Calvin Klein Beauty, a refined floral that will be backed by the elegant Diane Kruger. "Certainly sex is in our DNA, but this fragrance speaks to a different audience [than scents like Obsession and Euphoria]. It is very much the spirit of [Calvin Klein] Collection — elegant, sophisticated, timeless and beautiful — and designed to appeal to a more mature customer," creative director Francisco Costa told WWD. Set to debut in October, the scent, inspired by the calla lily, will include top notes of ambrette seeds, a middle note of jasmine, and a bottom note of cedarwood. Expect to see the new scent, encased in an egg-shaped, silver-accented bottle, on TV, print and online advertisements.
What do you think, are you glad to see a little more clothing in this campaign, or does the 180 on raw sex appeal confuse you?