Dita Von Teese Beauty Secrets
Dita Von Teese on Her Heroes, Fragrance-Making, and Creating Her Image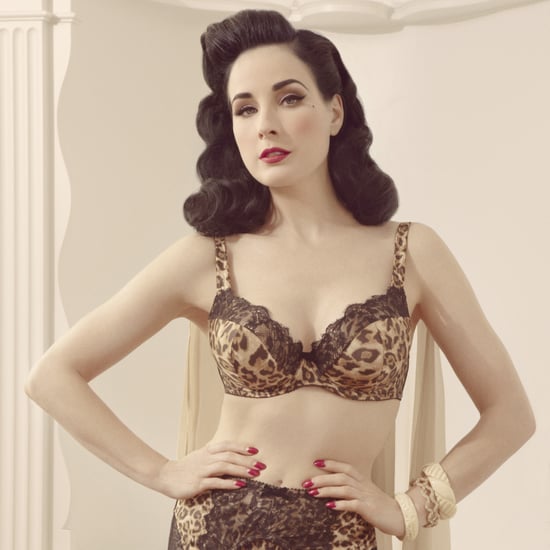 Dita Von Teese is a woman who clearly knows what she likes. She's perfected her signature vintage look for over 20 years, so when it came to developing her own fragrances, dubbed Dita Von Teese ($49) and Rouge, Dita knew exactly what she wanted. "I believe perfume is a vital stepping stone to glamour, so I wanted to create a perfume that has a high level of sophistication and is a kind of perfume that maybe one of my idols like Rita Hayworth or Marlene Dietrich would have worn," she says. Her namesake fragrance and Von Follies lingerie is available at Target now, and the 40-year-old burlesque star tells us everything from her skincare secrets to looking good in lingerie.
POPSUGAR: What was the process of creating fragrance like?
Dita Von Teese: We started the process, which took about a year, of really creating a perfume from scratch based on different fragrances I liked and the feeling I wanted to convey. I went through hundreds and hundreds of different reworks of maybe eight different fragrance ideas, and that's how we finally arrived to my signature scent. The second one [Rouge] was the same process: another year of me going to the perfumers and speaking directly with them.
PS: What was the feeling you wanted to create?
DVT: I refuse to have any vanilla or super-sweet accords, because I just like grown-up, womanly glamour, and I don't like anything that reminds me of childhood. The perfume was really about what do I wear when I want to emulate the femme fatale.
PS: Any surprising beauty tips from performing on stage?
DVT: I've learned a lot about the importance of lighting and what it can do to your makeup. The lighting you surround yourself with at home, whether it's to do your makeup or to create a ritualistic place to seduce someone, is so important. In my house, I use dimmer switches in every room and I create a beautiful space that makes me feel good about myself.
PS: What are your makeup staples?
DVT: I have a kind of a code for myself, which is black eyelashes, red lipstick, and my hair in waves. It's my signature look I've done for almost 20 years now on a daily basis. I always set aside 15 minutes for myself, and I always have time to put on mascara and a quick sweep of powder and my red lipstick. It's important to have a beauty routine that can vary according to how much time you have, because I don't always have an hour to get ready. There are things that are important to me. Red lipstick is vital. It makes me feel good and I don't leave the house without it.
PS: Do you have a secret to keeping your skin ageless?
DVT: The main secrets are using sunscreen, taking off your makeup before bed, and having a healthy diet. But I've also had a lot of skin problems that can't necessarily be fixed with a jar of face cream. I think it's important to have a good dermatologist. I have a real skin doctor who actually specialises in pediatric dermatology. If you really want to make a good change in your skin, find or seek out a real dermatologist who isn't just trying to sell you on lasers and all that stuff.
PS: What's your tip to looking gorgeous in lingerie?
DVT: I do a lot of Pilates. If I feel strong, I feel better about my body. Skincare-wise I always take my skin care that I use on my face down to my chest. A lot of people forget that that's something we see exposed a lot, too. You're supposed to use your sunscreen on your shoulders. There's no miracle cure for cellulite or body slimming, so trying to think about beauty from within and exercising, using common sense when it comes to what you eat, and doing your best to keep hydrated and moisturised are key to all of your skincare concerns.
PS: What can we expect from your upcoming beauty book?
DVT: It's been a book I've been working on for quite a while because I really want to lay out all my beauty secrets — like, everything I know. I go through the book and do all the makeup step-by-step and show exactly how I do it, and reveal every single beauty secret I can think of. I don't use a glam squad or makeup and hair team when I'm on the red carpet, so really the message is about do-it-yourself glamour. I'm referencing and showing a lot of my inspirations, which are daring, eccentric women of the past, not necessarily classic American beauties with little perky noses. I'm really showing who the great beauties of history are for me, and it's about embracing who you are and not feeling like you need to fit in or succumb to a modern, typical standard of beauty. My book is for people who want to have fun with makeup and try things differently.
PS: Who are some of the women who inspire your style?
DVT: I'm inspired a lot by women who were notoriously not reliant on other people to create their glamour. So a few of those people would be Marlene Dietrich, because she had a big hand in creating her image and knew a lot about lighting, makeup, and style. A lot of those great portraits of her she styled herself. I'm also inspired by a lot of the models from the 1950s, like [photographer] Irving Penn models. His wife, Lisa, was an amazing model. All the big fashion models knew how to do their own hair and makeup, so when you see those great Irving Penn images, there wasn't a glam squad on set. They did their hair, they did their makeup, they put on the clothes, they studied what looked best in the mirror. That's how they got those amazing shots. To me, that's really inspiring. I'm really here to preach that you can do it and to remind people of a time when women did create their images themselves.