Do You Wear An Eye Mask to Bed to Help You Sleep?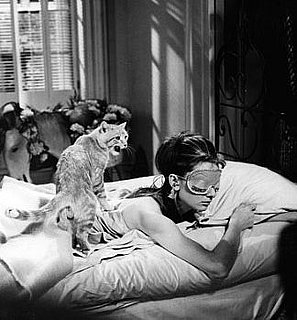 Before we go any further in our friendship, it's only fair that I tell you about an addiction I have. It's one that my sister calls "ridiculous," but I don't care. My name is Bella and I'm addicted to wearing an eye mask to bed.
Ever since I watched Breakfast at Tiffany's, I, like Holly, have donned an eye mask while catching some zzzz's. Sadly I have been told that I look nowhere near as elegant as Audrey while doing so. Humph. Aside from being labelled "old before my time," another con is the startling affect that wearing one has on your hair. Not to mention sex appeal. But the pro is one blissful night of uninterrupted sleep. There's something satisfying about it being as dark as possible. Or is that just me? Do you wear one while you sleep too?