Does Epilating Hurt?
Is It Time You Gave Epilation Another Try?
Of all the hair-removal methods currently available, epilation is probably the most likely to cause nightmares. When the first devices were launched in the '80s, they were truly instruments of torture, a row of multiple electronic tweezers that spun around and simultaneously ripped hair out at the root with no thought for pain reduction. But things have come a long way since then. If your only experience with epilation is trying out your mum's decades-old device (or hearing horror stories from other people who've used them in the past) it may be time to revisit.
Why Epilate?
Like waxing, epilation removes the hair at the root, giving you much longer-lasting results compared to surface-removal methods like shaving or depilatory creams. The major difference between epilation and waxing is that modern epilators can grab much shorter hairs, meaning less waiting time (and regrowth) between treatments. As an added bonus, epilators only grab hairs, not skin, so epilating won't remove fake tan in the way waxing can. In short, you get longer-lasting results than shaving or creams, with less waiting time (and subsequent regrowth) than waxing. Plus you can do it in the comfort of your own home.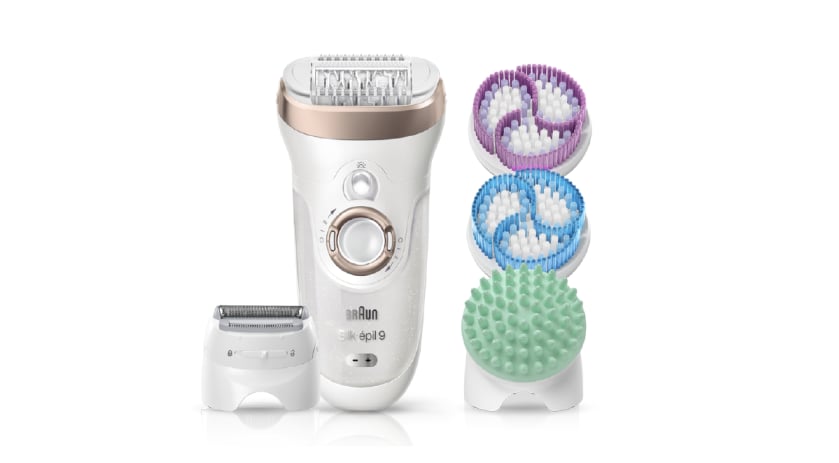 Let's Talk About Pain
I'm not going to lie, epilating is definitely not painless, as some ad campaigns would have you believe. But neither is is the eye-wateringly awful experience some people seem to imagine. Though I've never been a consistent epilator, I've used various devices over the years and have seen the market move on dramatically. It hurts a lot to start with, but the more you do it, the more you can stand it. To help you work out if it's for you, as a novice, I ran through the main hair-removal areas and recorded the pain level out of 10 (where 0 is no pain at all, 5 is "I can totally do this" and 10 is "I give up, this is too much"). In terms of device, I used the Braun Silk-épil 9, which is one of the more expensive options but comes with a whole host of extra attachments and gadgets to help make epilating an easier process.
Epilating the Legs
Despite being the largest surface area, the legs are the easiest and best place to epilate. After the initial one or two painful sessions, I'd rate the pain at about a 5/10. Since an epilator can grab tiny hairs, I'd suggest doing your first treatment no more than a week after shaving. If the hairs are longer, it hurts more, and you risk breaking the hair rather than pulling it out cleanly. Start on the shins, where hair removal is the most painless. Hold the device at a 90-degree angle, right on the skin, stretch the skin out as best you can, and and work upwards (against the direction of hair growth). I find I usually have to go over each area a couple of times, as the tweezers are spread out so they hit the skin at different points (this really helps with pain).
I would describe the pain level as similar to waxing. It takes longer, but you can stop at any time, take a break, and come back. I can easily do my shins, knees, and calves without too much trouble. There are areas that make me wince a bit: the back of the knee and the skin just below are more painful, as are the ankles and the top of the foot. But remember once it's done, you'll be hair-free for longer, anything between two and six weeks depending on your hair-growth cycles and how long you've been epilating.
Epilating the Underarms
Yeah, this hurts. A lot. I'd give it a 9/10. Enduring that pain seems completely unnecessary when you just spend a minute or two shaving in the shower, or seek out a more pain-free alternative that also promises long-lasting results, like IPL. If you've ever waxed your armpits, you'll know the skin here is pretty sensitive to hair removal at the root. I don't really feel like an epilator is best used in this area, but if you've managed it, I send you a huge high five!
Epilating the Bikini Line
How successful your down-there epilation is going to be probably depends on how much hair you want to remove. I was surprised at how much I could tolerate the pain. I'd still give it a 7 or 8 out of 10: you definitely need to brace yourself and be prepared for some sharp tugs, but if you make sure the hair is trimmed first you can minimise pain and it's not impossible. The epilator I use has a trimmer head that can be used for this purpose.
For me the difficulty comes in manoeuvring what is quite a large device to remove hairs in more intimate areas. If you're just looking to tidy up your bikini line, it's really great and a handy alternative to getting a wax if you're too lazy or shy to book a salon appointment. However, if you're used to a Brazilian or Hollywood wax, you'll need to be fairly good at contorting yourself into unusual positions. Perhaps best way to try epilating the bikini area for the first time may be to get a wax, then use an epilator to remove regrowth.
Are There Any Other Downsides?
Newbies to epilating may find that their skin reacts and goes red (temporarily) after the first few treatments. You're literally ripping hair out of the skin, and that takes some getting used to. You may get red dots around the follicles. However, it's temporary, and a cooling moisturiser can help. I've always found my skin reacts far worse to a wax than it does to epilation.
If you experience any bleeding, that's a problem, and may well be down to technique. It could be that you're not holding the epilator close enough to the skin (don't be frightened, it won't pinch your skin) or that your angle isn't quite right. Practice on easy areas like the shins before moving on. Nobody should be going right in for an at-home Hollywood without getting their technique right first!
Image Source: POPSUGAR Photography / Rima Brindamour
Product Credit: Balenciaga jacket (over), Brand Name Sandy Liang jacket (under) and skirt, Aquatalia shoes, Mark Cross bag // France & Søn Moduline sofa, ABC Carpet & Home Masana wool rug