Erika Heynatz Talks About Being Aveda's Walk For Water Ambassador
Erika Heynatz Talks Cosmetics With a Conscience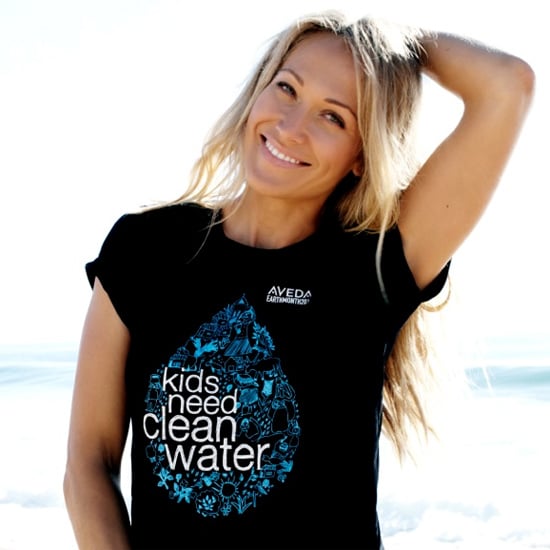 Erika Heynatz is the official Australian ambassador for Aveda's 2012 Walk for Water, the Earth Month initiative that highlights the average distance (6km) women walk in developing countries to get access to water for their families. We chat to Erika about her involvement with the brand, her makeup and skincare must-haves and how her views on beauty have changed over the years.
How did you come to be involved with Aveda's Walk for Water this year? I've always loved Aveda and their mission to create high-performing botanically-based products that are good for the planet. Their belief that authentic beauty works in harmony with the greater web of life really resonates for me. I had heard about Earth Month and was thrilled to be invited to act as the ambassador for Aveda Walk for Water. The privilege I experience of literally having "water on tap" when women in third world countries have to walk an average of 6kms a day to collect water for their families — often contaminated and the cause of widespread disease — inspired my action and involvement.
How important are natural and organic products to you? For a long time I was focused on what was reputably the most effective, cutting-edge skin product or treatment, often being the harshest on my skin and having the worst impact on the environment. It's comforting to use products that are not only good for your complexion, but also your conscience. I try to be aware of ingredients, their source and packaging, as well as what they are tested on.
How do you live a "green" lifestyle? I try and be as effective as I can with simple things such as recycling, avoidance of plastic bags, purchasing recyclable products/packaging, driving a small car, car pooling, [using] biodegradable detergent and [having] power saving switches on devices. I have previously been guilty of being a huge consumer of bottled water, which I know is really bad, even though I'd reuse them five or so times. Learning more about the enormous energy (and oil) required to create each tiny bottle has made me much more vigilant about this. I now carry an aluminium bottle.
Who do you admire for their pledge to help the environment? Brad Pitt's work as the co-creator of a design competition to build 20 affordable, reduced-energy, environmentally-friendly homes in New Orleans was pretty amazing. Sting is a vocal supporter of the environment and human rights; he founded the Rainforest Foundation in 1989, which raises fund to help protect endangered rainforests and their indigenous peoples. Designer Stella McCartney isn't just an acclaimed designer and vegetarian; she also developed an eco-friendly cosmetic line called CARE by Stella McCartney. All her products are manufactured ethically and contain only organic ingredients (no petrochemicals or silicones). And Woody Harrelson is one seriously dedicated green machine with an environmental passion that is inspiring.
Who are your beauty icons? I have a couple of pin-up girls and beauty icons. An outspoken and commanding, yet feminine beauty icon is Kate Winslet.Uma Thurman wields an unusual, sensual and strong energy that I really admire. And Julia Roberts possesses a beauty that radiates joy and has always captivated me.  
What do you think is the most underrated beauty product/tool? Aromatherapy is such an underrated beauty tool. The products I love the most and make me feel the best are the ones with beautiful essential or organic oils. Smell, like music, is instantly transformative for me. I used to put a few drops of lavender and rosemary on a cotton pad and pop it into a snap lock bag to whip out and sniff during a stressful or anxious moment.
What are you favourite beauty products? Shu Uemura Cleansing Oil and eyelash curler, MAC Face and Body makeup, NARS Laguna Bronzer and Copacabana Multiple, YSL Touche Eclat, Kevin Murphy Dry shampoo, Vani-T Organic Tan, SK-II masks and Kiehl's Blue toner. I also like Omnilux  Light Therapy — the most amazing salon treatment ever — Aveda Stress Fix Body Lotion, Rae Morris Kabuki Brushes and Priori Mineral Makeup.
What top tips have you picked up from leading hair and makeup artists? Michael Brennan gives the best sexy hair using large barrel tongs and loads of dry shampoo (plus lots of scalp massage for amazing volume and root lift!). Rae Morris once told me "mascara is as important as the air that we breathe". I also swear by her super cheap beauty trick which is also a brilliant pre-shoot skin prep: a simple scrub with bicarbonate of soda and cetaphil lotion.
Complete these sentences:
Beauty is . . . Reflected in the happiness you create in those your energy impacts upon every day.
Beauty should not . . . Involve cruelty to animals, be hard work, or be prioritized over the simple art of true self-expression.
You should always . . . Smile with your heart, not just the teeth.
I wish I'd never . . . Underestimated the incriminating orange fluorescence of the old school Clearasil pimple cream. Oh the teenage shame. It still gives me shivers.
Life is . . . About love, adventure, and the perfect hamburger.