Eva by Eva Longoria Parker Perfume
Eva Longoria Parker Wants You to Smell Like Her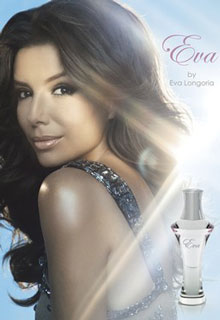 Eva Longoria Parker has joined the ranks of the celebrity scented with her first fragrance, aptly called Eva.
When asked to explain her motivation for launching a scent of her own, the star told WWD that she's "always been somewhat allergic to all perfumes and really wanted to create something that every woman could wear." So what does hypoallergenic and universally wearable smell like? Apparently, an aldehydic top of citrus, neroli, and bergamot followed by a floral heart of heart of jasmine, muguet, violet, and freesia, and a musk, amber, and sandalwood drydown.
The scent does sound like a departure from the fruity florals that have defined the celebrity fragrance genre of late, but it's still bound to be a sweet floral, although the aldehydic bubbling should add some interest. What do you think? Does the scent of a (famous) woman appeal, or will you give it a pass?