Find Out More About the Courtin-Clarins Sisters
Meet the Women Behind All That Is Cool About Clarins
Oui the People. French Beauty, Globe Style. That's the tagline on Clarins' now famous slice of internet pie — Beauty Flash Blog. Now picture this: You're blonde and beautiful. You attend all the best shows at international fashion weeks' and you have breathtakingly cool style (the French kind). Your grandfather created an iconic beauty brand back in 1954 and now you're at the helm, steering the ship through icy social media waters and here-today-gone-tomorrow trends. But not just you – your equally beautiful sister and your two glamorous cousins are on hand to help, too.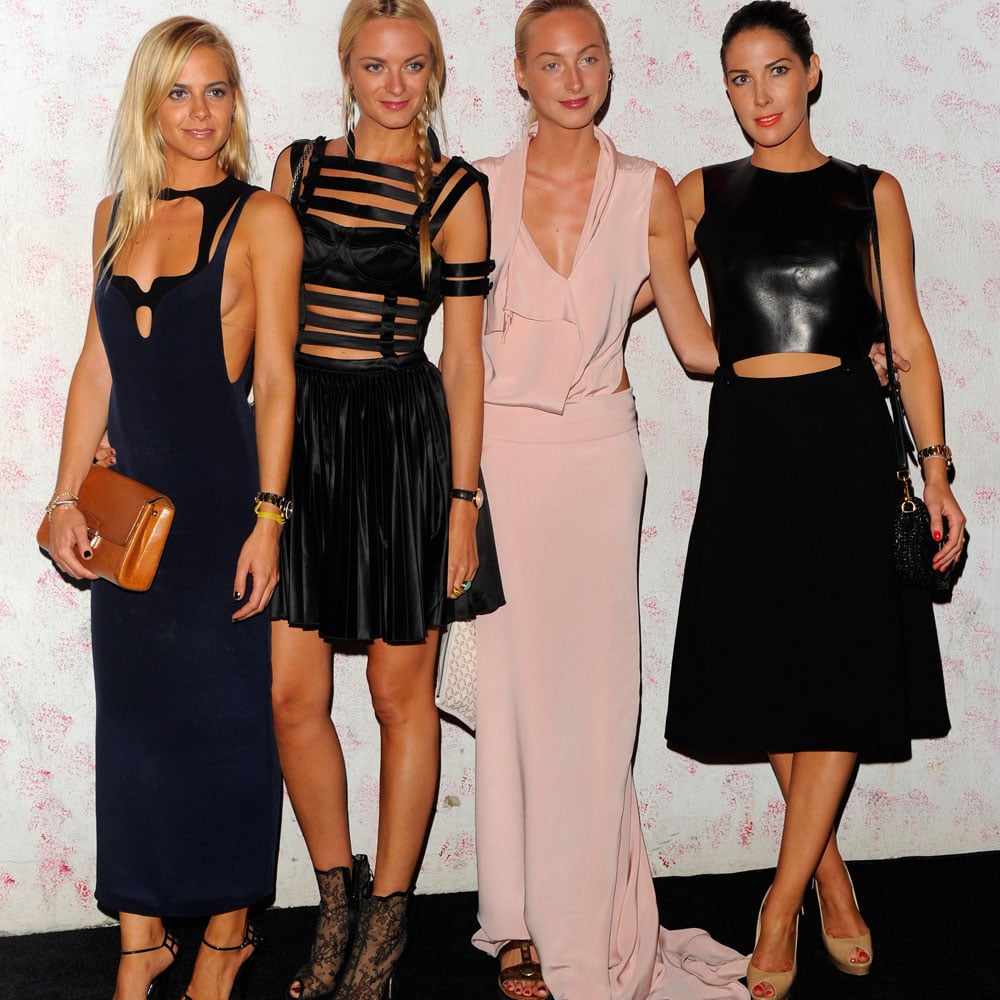 Meet the Courtin-Clarins girls, above from left: Jenna, Virginie, Claire and Prisca. Four women helping take Clarins to new levels of cool.
"I think what they're trying to do is be Clarins but in four people. They're bringing four different facets of the woman of today. They all really focus on fashion, their love of fashion and how colour particularly goes with that," says Clarins head trainer Charlotte Turner. "Because their fathers' are really connected with the brand, it's the fabric of how they've grown up."
When medical student Jacques Courtin-Clarins founded the company 60 years ago, we doubt he had any idea just how far his legacy would reach, and just how much his future grandchildren would influence the buying choices of a new breed of beauty consumer: digitally minded, trend-focused women.
"[The girls] act more as creative directors of the brand. Especially with colour," says Charlotte. "They go to all of the overseas fashion shows and they're really trying to be ahead of the trends and do the informing. None of the four girls are claiming to be technical wizards with skincare, that's not their role at all – they're more trend predictors," she says.
"Because their fathers' are really connected with the brand, it's the fabric of how they've grown up."
And if you've got your Beauty Flash Balm sitting neatly in your Proenza Schouler PS11, you can bet your glowing skin you've unwittingly caught the Courtin-Clarins bug.
"[Beauty Flash Balm] is an '80s product, and the '80s was all about excess, gloss, shine and glitter," says Charlotte of the cult face cream. "Many people don't have the radiance that they wish to have, or not quickly enough. It was a product ahead of its time because it gives you back that freshness to your skin tone and eliminates greyness without having to do a full routine of products. It's not a product that has long term benefits for the skin and it's not a treatment product – instead it gives you an instant lift."
Applied after your moisturiser and before foundation, this miracle cream basically recreates a new younger, fresher skin in between your makeup and skincare. If you haven't tried it, well, you're missing out.
"The formula hasn't changed over the years – just the packaging. Sure there's a long line of products that help radiance, but there's no parallel to Beauty Flash Balm," says Charlotte. "Nothing that has the same effect, texture or smell." Ah yes, that smell. A mix between the lipstick your mum used to wear when you were about five, and the almost clinical smell of old-school sorbolene cream.
Charlotte says that side from acting like a primer, we can also use it as a mask. So instead of using a hydrating mask at night, coat your face in Beauty Flash Balm. It will sit on the skin and soothe redness – which is part of what it does when you wear it – but the concentrated treatment is one Clarins uses as part of its standard Paris facial.
Interestingly, Jacques Courtin-Clarins based the whole brand on the fact that he was a man in a woman's world. His life was all about listening to women and he realised that there was something in that.
"Even back then, he realised that being surrounded by women and being at the mercy of their moods, it was all about the way they looked. If they looked good, they felt good, and then they treated him well," says Charlotte. "So he thought OK, this is not about lipstick and powder, it's about making women look and feel fabulous and beautiful. When they feel that way, their true beauty comes out in the way that they treat others."
But back in 1954, it was a whole different ballgame when it came to cosmetics. Everything was behind counter and you had to qualify to speak to a consultant in a department store. The over-powdered models of their day giving advice to regular folk – those days are long gone. And it's not until you realise how dramatically different the beauty landscape is today that you realise how vital Virginie, Claire, Prisca and Jenna are to Clarins' continued survival. It's still iconic, but these days it's for totally different reasons — it's about them.