First Look at the New Tom Ford Black Orchid Nail Polish
Wanna Looksee at Tom Ford's New Black Orchid Nail Polish?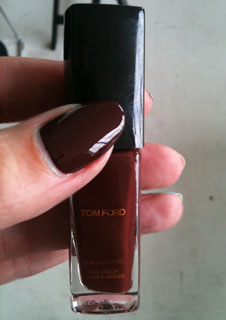 If there are two things we love, it's Mr. Suavetastic Chilli Bombastic Tom Ford and Nail Queen Sophy Robson. Remember, we blogged about her and said you totally had to bookmark her site. And well, we were right, because she's only gone and had a close encounter with Tom Ford's forthcoming nail polish. She tweeted "TOM FORD Black Orchid Polish in the hoooouuuuuuse!!!" and then followed up with this twitpic. Which totes set our hearts racing.
Tom has been creating a stir for years with his risqué (and sometimes just plain raunchy) fragrance ads, so we're excited to see what's planned for this new entry in his beauty range. Like the lipstick, it's classic colour meets femme fatale 'tude. Are you excited to see Tom Ford get into the nail polish game? Would you pay out for his luxe lacquer?