Germs in Store Makeup Testers
Beauty and the Bacteria: A Lesson in Makeup Counter Hygiene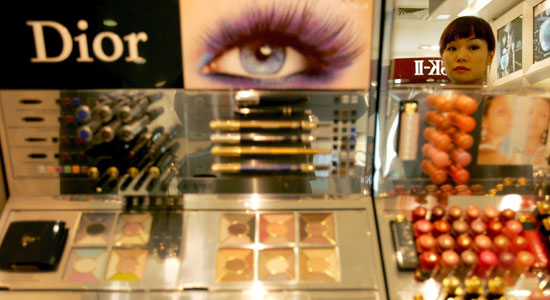 Even if you don't double-dip, it doesn't mean the food you're about to eat/the product you're about to try is safe; in fact, when it comes to makeup, more often than not, it isn't. The truth is that even if you practice good hygiene, thousands of others don't. That's what Dr. Elizabeth Brooks found when she conducted an extensive study on public makeup testers. Her research revealed various bacteria on makeup testers. La la la la la, not listening. But even Dr. Brooks, who's seen the worst of it, isn't afraid of the germs lurking in the samples—she just knows how to handle them. Here's how:
Don't dip — Whenever possible, use sample products that don't require finger dipping. Squeeze bottles of creams and lip glosses are always a better alternative to lotion jars or pots of lip gloss.
Forgo communal tools — NEVER use shared brushes; always opt for disposable applicators instead.
Keep reading . . .Wipe it clean — Remove or scrape the top layer of lipstick and always wipe the surface of makeup samples with a tissue and some alcohol. Don't test any products where the top surface cannot be removed, like a face cream or eye cream.
Be mindful of where you apply — The study showed that cosmetics used around the lips, eyes, or nose are the worst, resulting in the spread of afflictions like cold sores and conjunctivitis. Therefore, avoid any products that must be directly applied to the nose, eyes, or mouth, especially mascara.
Ask for help — If you don't see disposable applicators out, ask for them. And don't be afraid to ask for individual samples as well. Just because they're not out on the counter doesn't mean they're not available.