Get the Gwyneth Paltrow Ponytail from the David Jones Spring Summer Fashion Launch
Get the Look: Aveda's Gwyneth Paltrow Ponytail for the David Jones Spring Summer Fashion Launch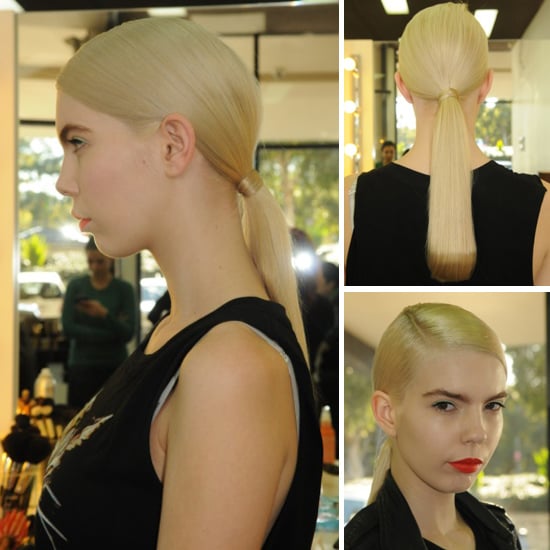 We saw two hair looks on the runway at the David Jones Spring Summer Fashion Launch last night, but our favourite had to be the Gwyneth Paltrow inspired ponytail – the look that had everyone talking at this year's Oscars. Styled on the night by the Aveda team, the look is not only easy to get at home, but your new go-to for a classic 'do. For a step-by-step on how to get Gwen's cool pony straight from last night's hair experts, keeping reading.
Prepare the look by beginning with towel dried hair and apply a 10 cent coin size of Aveda Color Conserve Daily Color Protect through mid-lengths and ends. (If hair is damaged, use Aveda Damage Remedy Daily Hair Repair.)
To the root area, spritz Aveda Pure Abundance Style-Prep to thicken hair.
Work Aveda Phomollient Styling Foam (three pumps) through mid-lengths and ends. If hair requires smoothing, apply a small amount of the Aveda Brilliant Universal Crème.
Decide on which side you would like your hair parted and start your part from just beyond the arch of the brow of the same side.
Blow-dry your hair from root to tips using a large, round brush and even sectioning; finish the blow dry with a straightening iron.
Take a circular section over the crown area and clip out of the way. Pull or comb both sides of the parted hair smooth behind the ears and secure into a low ponytail at the nape of the neck. Preferably with a transparent and snag-less hair tie.
Unclip the circular section of hair (attention to the same part line) and comb or smooth it down to join into the rest of the pony.
Make sure hair is pulled firmly and wrap the ends around the hair band, securing with a bobby pin that matches your hair colour. Spray Aveda Air Control Hairspray to help secure the direction of the hair into the pony.
To create the extra shine and shimmer, spritz with Aveda Protective Hair Veil that also doubles as intense shine and provides UV filters to protect hair.
To lock in the look, finish with Aveda Control Force Hairspray.