Get Jennifer Hudson's Silver Makeup Look
12 Days of Christmas Beauty Inspiration: Jennifer Hudson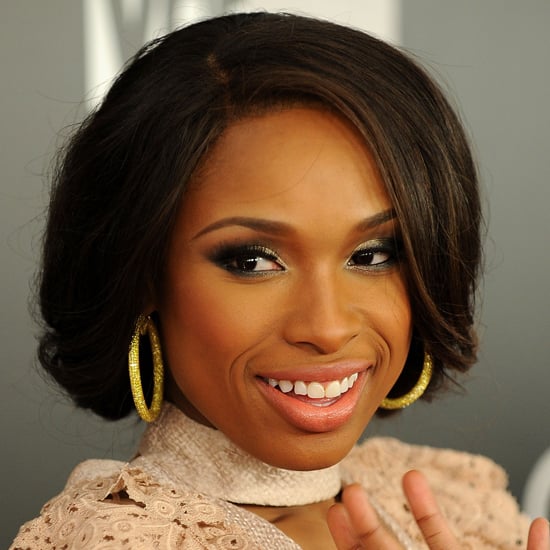 You're probably feeling a little partied-out after so many silly season soirées but you've still got New Year's Eve to prep for yet! Luckily we're here to help — offering daily advice on how you can turn celebrities' latest red carpet looks into a reality. Today we're inspired by Jennifer Hudson and her sparkly silver peepers at the VH1 Divas Celebrates Soul event in NYC last night. She teamed her metallic makeup with a peach lip and faux bob. Get the look now.
HAIR: A "faux bob" is a great hairstyle for this time of year, especially when the weather's hot — it keeps your hair off the back of your neck and saves you having to worry about it dropping or holding its shape all night. You want to make sure you start with lots of volume and body throughout your hair and then it's as simple as taking a mix of classic bobby pins (the ones that are rigidly straight with ridges) and the ones that look more like a bendy "v" and tucking sections of your hair under, pinning to secure. Start with the bottom sections and loosely layer the top until it's all pinned under.
MAKEUP: This look is all about the eyes so, to avoid all of your hard work going AWOL, use an eyeshadow primer such as Stila Primer Pot Eye Shadow Primer ($42). Top it with a silver cream shadow like MAC Metal-X Cyber ($46) all over the lid and then rim the eyes with a dark gunmetal grey pencil. Stila's Smudge Stick Waterproof Eye Liner in Triggerfish ($42) is great for those wanted an extra sparkle as it comes with pearly shimmer particles. Finish with black kohl on the water-line, lashings of mascara and a peach matte lip. Try Revlon Matte Lipstick in Smoked Peach ($21.95).
Stockists: MAC (1800 613 828).