Get the Look At Home Missoni's Spring 2013 Milan Fashion Week Hair By Eugene Souleiman
Get the Look: Missoni's Ethereal Athletes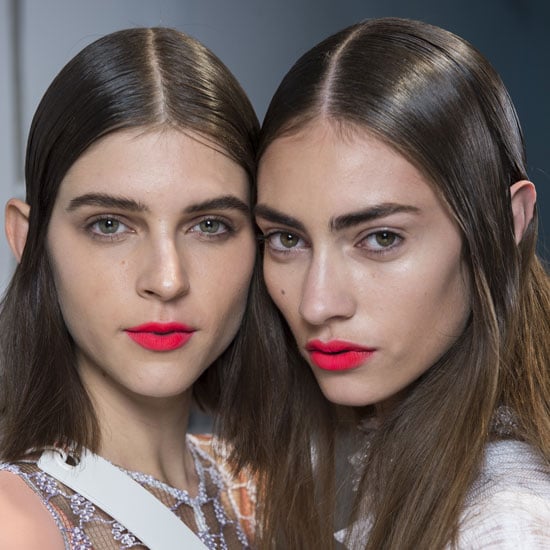 A few months ago, we spoke to Wella Professionals' global creative director, Eugene Souleiman about hair trends. He's one very talented man, so we were eager to see what he came up with for Missoni's Spring 2013 show at Milan fashion week. The answer? Ethereal Athletes. So cool! The clean look reflected the sporty, futuristic feel of the collection and Eugene says the aim of the hair was to look strong. "[I wanted] it to look like the girls have been wearing a bandanna for a while and have then taken it off."
"I enjoy being free to delve into uncharted territory and with this look I've really been able to do that. The top of the hair is strict whilst the bottom is free. By juxtaposing two different textures the contrast in the styling effect is striking." Curious about how to get the look at home? Click through.
Start with clean freshly washed and conditioned hair, using Wella Professionals Brilliance Shampoo and Conditioner, to preserve the brilliant shine of colour treated hair.
Blow dry the hair with Wella Professionals Perfect Setting Spray to create the perfect base for styling.
Create a deep centre parting and section the hair around the crown and tie out of the way. Divide the hair underneath into three sections and tie down with elastic at the nape of the neck to remove the volume at the back of the head.
Smooth down the underneath sections of hair with Wella Professionals Shape Control Mousse, pushing the mousse right into the roots to keep the hair flat to the scalp.
Release the underneath of the top section of hair and smooth down the side sections and spray with Ocean Spritz Beach. Texture Spray from right at the root to half way down the head, for a flat and strong shape that emphasises the shape of the head.
Bring the front sections of hair around the face in front of the ear and expose the ear, flattening the hair in front and behind, again spraying with Ocean Spritz.
Smooth down the back of the head to further emphasise the curved shape, stopping at just under ear level.
When all the hair has been released spray the whole top section with Ocean Spritz and brush through to enhance the textured, matte effect created by the spray.
Tie a hair net around the top of the head and secure at the back to push the product into the hair then blow dry the hair with a diffuser to set the mousse and spray that has saturated the top of the head.
Once the hair is dried, pull out sections of the free ends to create a raw texture and spray lightly with Ocean Spritz.