Get the Look at Home Pink's Undercut and Bleach Blonde Quiff
Get the Look: Pink's Punk Rock Quiff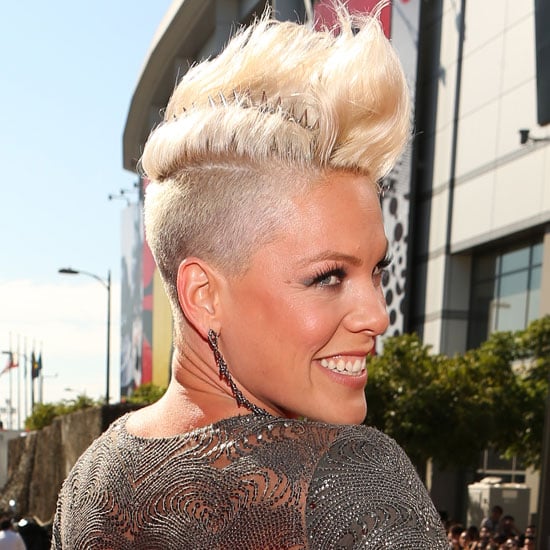 We have a confession to make. Up until a few weeks ago, we didn't know that ghd stands for Good Hair Day. Yah, we know. And in case you weren't aware, today marks the inaugural National Good Hair Day — founded to encourage women to have an amazingly good hair day everyday, with the help of their trusty ghd.
We got to thinking about celebrities who always seem to be having a good hair day, and the recently local punk rock chick, Pink, sits top of mind. Miley Cyrus emulated her bleach blonde undercut, but Pink truly is the original babe with a buzz cut. Joey Scandizzo, ghd hair director and Australian Hair Dresser of the Year, tells us that getting her look at home is much easier than we think... keep reading.
"To pull this look off you have to be a really confident woman and have the type of facial features that you are happy to enhance, as short hair — especially when you cut away the sides — will really make your most prominent facial features stand out," says Joey. "[And] never try and cut an undercut yourself at home, it will only lead to disaster. Have the style created for you by a professional stylist so that they can get the shape 100 percent perfect."
Another word of warning to those ready for the chop or rather, the shave, this look does require regular upkeep as an overgrown undercut (confusing?!) can look messy. You'll need a trim every three to four weeks.
To get Pink's look at home:
Apply a ghd Root Lift Spray to damp hair to create lift from the roots.
Blast hair dry, ensuring your are drying hair in an upwards motion to create height.
Finish with ghd Final Fix Hairspray ($18) to hold the style and define the look.