Get Rid of Cellulite With This Treatment and At Home Massage
Farewell Cellulite! The Treatment & At-Home Routine For Smoother Skin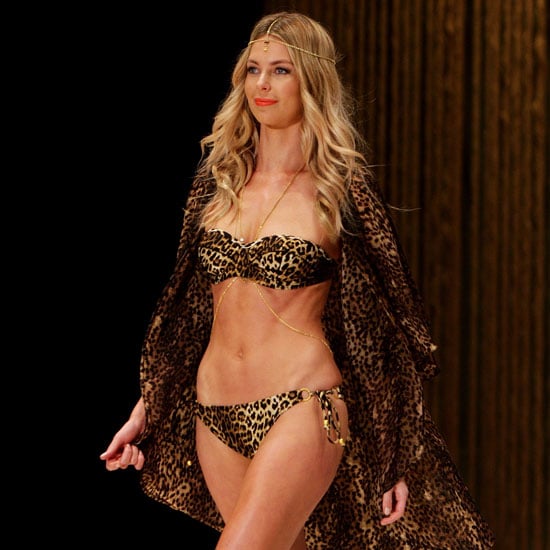 I'll be honest with you, anything remotely related to getting rid of cellulite and I'm onto it. I'll use the creams, I'll do the leg massages, and I'll even get wrapped in tin foil to resemble a chicken, primed for roasting. Which, as it happens, was exactly what I did at Venustus day spa in Paddington, Sydney, last week. Their Slim & Tone Detox Body Wrap ($154) is an intensive anti-cellulite treatment using ingredients known for their ability to dramatically increase blood flow, strengthen, firm and reduce fluid retention. Ah, yes please. It included a body salt exfolation using their very amazing Cellulite Eliminator Body Polish ($19) — I now use this nightly at home — and an application of Cellutrim Gel and the Cellulite Elliminator Serum ($49). They then place a "space blanket" over your entire body (roast chicken stage) to help infuse the ingredients. The whole process is by no means relaxing because it feels so hot, but it is effective. After my treatment, I spoke to Venustus owner Jeannie to quiz her on all things cellulite reduction — keep reading.
Why are the oils used in your serum good for cellulite reduction?
"Grapefruit essential oil is a lymphatic stimulant and indicated for cellulitis, obesity and water retention; geranium essential oil is a diuretic and has a stimulating effect on the lymphatic system (beneficial for treating cellulite, fluid retention and oedema of the ankles); ginger is a circulatory stimulant recommended for poor circulation; rosemary essential oil is great for stimulating circulation and good for helping stiff and overworked muscles; juniper berry essential oil is known for its diuretic and lymphatic decongestant properties (recommended for clearing toxins); and cypress essential oil is known for its diuretic and decongestant properties."
Phew! Is this treatment a one-off or do you need to do it regularly?
"This treatment can be done once a week as it has accumulative results."
So exfoliating is good for reducing cellulite?
"Exfoliating is excellent for reducing cellulite when it contains these correct essential oils and I recommend doing it once or twice a week."
How can I repeat the process at home after the treatment?
"At home, use the Cellulite Eliminator Polish on dry skin to exfoliate your entire body. Then, massage in the Cellulite Eliminator Serum (from the tips of the toes to thigh and best to massage in the direction towards the heart) to stimulate the lymphatic system."
I know what you're going to say here, but will I see results or does it need to be combined with exercise?
"You will of course see results, but combine it with exercise, two litres of water per day, organic food and clean living."
To find out more or to book an appointment, call 02 9361 4014.