Hair Advice For My Teenage Self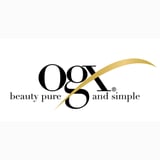 It's time embrace the locks you were born with. We've partnered with OGX to show you how to get your hair into its best shape yet, and be proud to #RockWhatYouGot.
When I think about some of the hair and beauty mistakes I've made over the years, I cringe a little inside. There was the time, just after starting high school, that I decided it would be a good idea to liven up my long, dark, virgin hair (that I'd been growing my entire life), with some chunky, brassy highlights. Unfortunately the result was a far cry from the golden strands of Jennifer Aniston, whose hair I'd been trying to emulate. I also once decided that a blunt fringe would look grungy on me, and give me a cool-girl edge, but as my hair is thick and curly it just looked ridiculous. However the pièce de résistance was when I bleached the bottom layer of my hair and then dyed it bright red. Not cool. Not cool at all, Crystal.
Thankfully, when I asked around the rest of the POPSUGAR Australia team, I wasn't alone in my tales of beauty woe. And as it unsurprisingly turns out, the majority of the girls had made some dodgy hair-related mistakes of their own, and most of them occurred during their teens — the result of that heady combination of self-discovery, a desire to rebel, and the palpable insecurity that characterises teen life. Those 'discovery years' certainly made for some interesting beauty choices, to say the least.
So what did I learn from my own hair trials and tribulations? While it was certainly fun to experiment and try on different identities by changing my hair, it's my original, long, natural style that I keep trying to get back to, and that ultimately suits me best. Through it all, my hair in its natural state has always felt the most me; think of all the money and hair heartache that could be saved if we all just learned to rock what we've got?
For any teens reading this — or any women considering a drastic style change — we're revealing the advice we'd give our teenage selves about our hair. If only we could turn back time!
Advice on Colour
"Stop using Sun-In! Your hair is looking orange and dry — stick to your natural colour for now, and experiment when you actually have the money to do it, so your hair doesn't lose its lustre." —Amanda
"Don't bleach it yourself — it will turn yellow. Also, embrace the curl. Don't fight it." —Erin
Advice on Cut
"More layers don't give you more volume. In fact, they'll only make your already fine head of hair fall even flatter. Oh, and that bob you used to have as a primary school kid? Don't knock it — you will come crawling back to the short hair club." —Ashling
Advice on Embracing What You've Got
"One day you will keep cutting your hair and it will take years and years to get it back to the length you have now. You want thicker, wavier hair but trust me, as you get older and busier, you become very thankful for your thin, straight hair. It does what you want it to do and everyone is supremely jealous that you don't really need to straighten it. Also — put down the iron." —Alison
"For the love of God, don't dye your hair! You're going to ruin it ... I should know, I've had to fix the aftermath. Your natural waves are really nice, and you will look back on photos of your normal hair with the most fondness." —Ashleigh
Advice on Achieving 'Perfection'
"You will never wake up with the perfect hair. The beautiful people you see spend time styling or treating their hair. If you want your hair to be amazing, you'll have to put in the time and effort to make it amazing — no one is naturally as perfect as they may seem." —Ellie
Image Source: Getty / Aleksandar Georgiev