Have You Ever Thought of Wearing Lipstick as Blusher?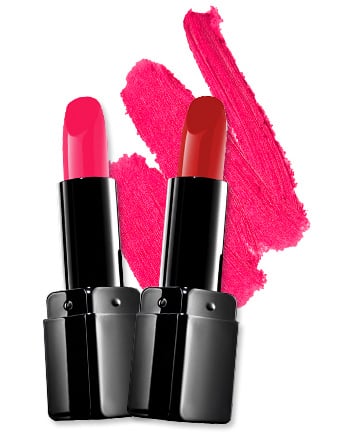 If you're someone who doesn't like to cart around 23 cosmetic items every day or you need a little sumthin' sumthin' to perk you up mid-afternoon but can only lay your hands on a lippy at the bottom of your bag, then let me ask you this, have you ever considered using lipstick as a blush to give you a cute and co-ordinating flush? If the answer's no, then you really should reconsider because it's one of the top tips that makeup artists recommend (after really massaging in your serum and moisturiser to create a natural, lit-from-within glow). This tip pretty much works with all colours — even if the pigment is very rich, by the time you buff it into the skin, it'll soften — but textures are a different matter. You don't want to go for a formula that's too glossy as it'll be sticky and mess with your foundation, however matte products are harder to manipulate. I recommend MAC Lipstick ($36), Illamasqua Lipstick ($39) and Bobbi Brown Creamy Lip Color ($44). Once you've decided on a shade, you've got a choice of two application techniques.
Directly on the skin: Smile to find the apples of your cheeks (the bits that stick out when you smile) and draw lipstick from this centre point out towards your temples at a 45-degree angle. Stop the line about an inch away from your hairline and then buff the lipstick in using a blush brush. Tip: for more control, grip the base of the bristles instead of the brush handle.
On the hand first: Build up some of the lipstick pigment on your hand: Tip: you can get a "chunk" of lipstick from the bullet by using the upper metal part of the brush (the bit that joins the bristles to the brush handle) to separate a section but be warned, this can make your bullet uneven. Once you have the pigment in your hand, gently dot the brush up and down over it to pick up the pigment and then begin to buff it into your skin on the apples of your cheeks.